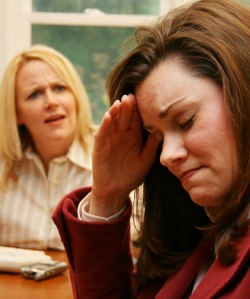 Whether it be their attitude, their laziness, or the fact that they just won't stop talking, just about everyone wants to know how to deal with difficult people at work. Sound familiar?
This is a problem that is usually not addressed at the start of a job, yet it can hinder your production and bring down your attitude. If one of your co-workers takes away your motivation to come to work, something needs to be done. However, this is not always an easy task.
You work at your job 40 hours a week, the last thing you want to do is create an enemy out of a co-worker. In other words, take caution because this could turn out to be very sensitive subject.
If you deal with an annoying co-worker in the wrong way, you could end up having a bigger problem on your hands than you did before. Can you say backfire?
How to Deal with Difficult People at Work
Problem co-workers will always use some tried and tested tools in the business. To be prepared against these six weapons is to be ready to deal with difficult co-workers.
Gossip
The best way to deal with gossip is to listen quietly and not join in—even if you have a particular opinion about what is being said. Chances are your co-worker wants a reaction out of you. If you sit and listen quietly, they will likely move on to another co-worker to dish the gossip.
Non-stop babble
There are a few ways you can approach this problem. If you know someone is a chatterbox, try making up an excuse for not being able to talk before he/she gets going with their story from last night. Most co-workers who like to talk are still respectful and will let you get your work done.
Jealousy
For whatever reason, there are occasions where a co-worker does not like you. They could be jealous you got a promotion they wanted, or maybe your new position in the company somehow altered their work environment.
Whatever the case may be, the best thing to do is maintain a normal relationship. Say hello and be nice, but nothing more. If a bad look comes your way, don't shoot back with another bad glance. Try to avoid these co-workers as much as possible, and be pleasant when you are forced to see them.
Too Much Confidence
Occasionally, there are co-workers who think that everything they do is correct (and sometimes everything you do is wrong). In this situation, you should remain calm but continue to do things your way. Listen to their advice, but if you really think that your way of doing things is correct, continue working.
Once your ideas work, your co-worker will have no choice but to accept your idea. This may make them bitter, but ultimately they cannot be upset with you for doing the right thing (just make sure you didn't ignore good advice!)
Laziness
Unfortunately, a co-worker who is lazy is likely giving you a bigger work load. This is tricky because you want to keep a good relationship with your co-worker, and you don't want to make trouble with your boss.
The best thing to do in this situation is tell your co-worker you simply cannot do their work because you have too much of your own. You will feel better if you are not taking someone else's work, and ultimately your co-worker will benefit from learning how to accept their workload as theirs.
Complaining
If someone near you complains day in and day out, it has become more of a character trait than something that needs to be "fixed." No matter what you do, your co-worker will likely find something to complain about on any given day.
Therefore, the best thing to do is try and change the subject. If this doesn't work, try agreeing with your co-worker. They may just want sympathy, and if you don't give it to them they may leave you alone quicker than you think.
—
Ultimately, the key is to remain calm and positive. Standing up for yourself is one thing, but in an office situation it is best to try smoothing over a situation without making the other person upset.
How do you deal with difficult people at work? Tell us in the comments!
Popular search terms for this article:
how to deal with difficult people, how to deal with difficult people at work, how to deal with difficult coworkers, dealing with difficult people at work, dealing with difficult people, difficult people at work, how to handle difficult people at work, how to deal with difficult people in the office, how to deal with people at work, how to handle difficult people