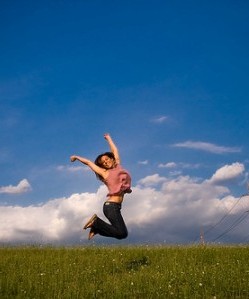 Despite high unemployment, bad housing numbers, and near nuclear meltdowns,  more and more people are leaving their day jobs to pursue their passion.
Take my friend Dan, who left a comfy 9 to 5 to pursue his dream of becoming a Bikram Yoga instructor and is currently travelling the country on his bicycle.  Now that's inspiring.
The path usually goes something like this:
1. Corporate job that I don't really like, but pays my bills.
2. Find a side hobby or craft that I am passionate about.
3. Hone side hobby/craft until I am good enough to get paid for it.
4. Leave my corporate job and get paid to do what I love.
In reality, there's a lot that has to happen between numbers three and four on that list. It takes more than just passion and a great idea to make the leap towards working for self.
It Takes More Than Just Passion
Unfortunately, we all must become marketers if we want to succeed. But here's the paradox: People who want to leave their jobs are usually the same people who either roll their eyes or shiver when they hear the word marketing.
If you're one of them, please suspend your disbelief.  If it helps, replace marketing with attracting customers. Whatever you can do to get behind it is crucial so that you can follow your passion.
So, are you looking to quit your corporate job and get paid to do what you're passionate about?
Maybe you even have your side "business" up and running with a few paying clients and a nice website. Then this article is for you, because whether you've got your quit-date marked on the calendar, or it's just a distant daydream, I'm going to share the one most important thing you need to do to ensure that your passion practically happens.
If you ask any online marketer about the most important tool in their arsenal, you might be surprised by their answer. It goes beyond Twitter, Facebook, LinkedIn and other social networks.  It even goes beyond their websites.
Here's what they will tell you: It's email. Before you relegate email to an antique on the shelf collecting dust along with newsgroups and ICQ, read on.
Why Email Still Rocks
Yes, one of the oldest forms of online communication is still the most relevant. In fact, according to a recent Nielsen survey, time spent on email among heavy social media consumers has steadily increased year over year. This even though social media is eating up more and more of the spotlight.
So, let's go back to your side business and your passion to make it your main source of income.  Why not take the most powerful tool in the marketer's arsenal and make it part of your own "marketing" plan? Yes, I am suggesting, even URGING you to create an email list and promote it to anyone interested in what you do.
How to Follow Your Passion with Email Marketing
1. Sign up for an email list provider.
There are free ones, and there are cheap ones and there are expensive ones.  I'm not affiliated with any of them, nor will I profit if you sign up with any of them.  Some of the big names are:
MailChimp (Free up to 500 subscribers, easy to use)
Aweber (Powerful, flexible, an online-business mainstay)
iContact  (Also free up to 500 subscribers, corporate standard)
Constant Contact (Premium service for offline businesses, focus on human tech support)
The most important thing is that you DO NOT use your personal email account to promote your business. With an email list provider you get safe opt-in and opt-out (fancy words for subscribe and unsubscribe), and signup forms to put on your website. Most importantly, you get data.  You get to know if your emails are opened and which links are clicked on.  Essentially, you can find out more of what your customers like and want.  That knowledge is priceless.
2. Add a signup form to your website (if you have one).
This is what marketers call an "opt-in" form.
You should put this form in a visible place on your website, ideally the top of the sidebar.  Try not to be too generic. All of the providers I mentioned above make it really easy to customize these forms with your own colors and graphics, and also offer a number of pre-made templates.  Pick a template that makes sense for your business.
Don't just stop there! Build your list. Use a paper signup list if you have a table somewhere.  Put a link to it in your email signature. Email people who you already correspond with and ask them if you can add them to get updates. The point here is not to create your list and let it languish unused for months.
3. Engage with your list.
Keep them up to date on things relating to your business/hobby/craft.  If you're a musician, tell them when and where you're playing.  If you're a furniture maker, send them photos of your latest work. If you're an artist, tell them when and where your next shows are.
Everyone on your email list has already "opted in", which means that they are actually interested in what you send.  You have an open invitation to tell them about the business you're passionate about and the potential for them to become customers.  Now, isn't that exciting?
Why Should I Take Your Advice?
If you put this off until you are actually ready and dying to leave your job and launch your business, you will be starting from scratch.  In your initial desperation, you'll probably sign up for some kind of marketing course or information product and the first thing it's going to tell you is to start building an email list.
On the other hand, if you start doing this now, you will have a list fans as you get ready to make your side project your main hustle.  These will be your first customers, your initial momentum, and that first push as you make your transition. You can thank me later.
—
Have you leveraged email marketing to reach your passion? Share your tips in comments.
Photo by thephotographymuse via Flickr.
Popular search terms for this article:
Follow your passion, how to follow your passion, following your passion, Follow Your Passions