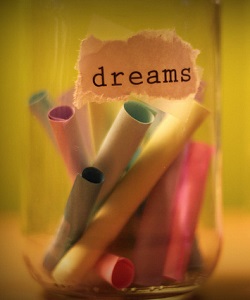 We all have dreams and hopes for the future — things that we want to achieve, places we want to visit or move to.
Dreams are what can motivate us to get through school, to do the internship, to serve at the bottom until the pathway to the top opens up.
But dreams aren't easy to realize — there are always obstacles in our way and sometimes things inside of us that hold us back.
If your dream feels particularly elusive, then maybe you have some of those internal obstacles holding you back.
Here are a few questions to ask yourself about your dreams:
Does your path feel right to achieve your dream? Your path may not be easy but it shouldn't be causing you pain. If it does, you may want to review or revise your expectations.
Are you following someone else's dream for you? Your parents may have wanted you to be a doctor or a professional athlete, but you know it's not your path.
Is someone pushing you into a situation or career choice because they want something from you? It might be a partner who wants more money or material things, or even a coworker who wants you out of the way so that they can get what they want.
Are you really following your dream or do you want to impress others? It might be great to have the corner office that everyone covets, but does that fit your personal hopes or dreams?
Are you stuck in neutral, waiting for something else to happen or someone else to move so that you can realize your dream? You may be waiting a long time and the perfect moment may never come.
So how can you overcome what's holding you back? Take a look at these suggestions and find one or more that might work for you.
1. Stop Focusing on Limitations
We have to find ways to continue to believe in ourselves and our dreams. The moment we start to think otherwise, our dreams start slipping away.
We have to stop focusing on what we don't have today and start dreaming about we want to have tomorrow. Then take action towards our dreams. We need to think about what is possible and not why we can't or won't do something to achieve our dreams.
2. Forget About Comparisons
Even if it feels like it sometimes, life is not a competition. Your only competition is yourself and what you hope to become. Your only opposition is looking at you in the mirror each morning.
You cannot measure your dreams against anyone else's success or failures. Also, forget about other people's dreams or expectations of or for you. They are your dreams and you are the timekeeper, the referee and the official scorer.
3. Seek Partners for Success
The people around you come in two varieties: those who are helping you achieve your dreams and those who are not. You will need to shed some of the negative relationships in your life — at home and at work — if you want to realize your dreams.
That's because you want to make room for more people who can help you succeed. Very few people achieve their dreams alone, so seek out and secure your partners for success.
4. Take Advantage of Every Opportunity
Every day will bring you both challenges and opportunities. Achieving your dreams does mean that you will have to overcome the challenges. But it also means embracing each opportunity that comes your way.
All around us doors are being opened and it may be a new and challenging assignment or a potentially difficult situation, but every time we take advantage of an opportunity we become stronger. And it just might lead us closer to our dream.
5. Be Prepared to Make (More) Sacrifices
You have already being tried and tested along the path to your dream job or your ideal life. The good news is that you have now been battle-tested and found ready. The bad news is that there are more challenges and sacrifices ahead.
The last leg of the journey up any mountain is often the most difficult, but if you stay focused on the peak you will realize your dream.
And when you're just about to give up on your dream, remember this great quote by Walt Disney:
"If you can dream it, you can do it.
Always remember this whole thing was started by a mouse."
—
What are your tips for following your dreams? How do you overcome what's holding you back?
(Photo by Nicole Pierce / CC BY)