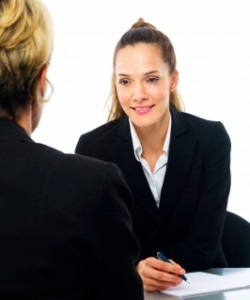 While we shouldn't judge a book by its cover, appearance is one of the ways job seekers are routinely judged by hiring managers. Some of this is conscious, but a lot of these split-second judgments are happening at the unconscious level.
If you don't know how to look like a leader in an interview, it's entirely possible this is the reason you're losing out on great jobs.
So are there some ways to look and act more like a leader in your interview in order to snag your dream job? Of course there are! In fact, a recent survey by the Center for Talent Innovation showed the key to getting hired and getting ahead boils down to one simple ingredient: executive presence.
But just what are the elements that add up to a good executive presence? And how can you show off these elements in the interview, whether it's in person or through online video? Here are some of the most important pieces of the executive presence puzzle:
Dress like a CEO
Appearance matters, especially in a job interview. Whether you're across the desk from a potential employer or on the other side of the webcam, your interviewer will begin assessing you the moment they see your smiling face. So make sure what they see is giving them a good impression of your candidacy. While only 5 percent of senior leaders considered appearance a key factor in success, most would admit it has a bearing on how you are perceived.
To look like a leader in your interview, leave your cutting edge fashions and bright primary colors behind. Those studded boots you just bought might have been in the pages of Vogue Magazine, but they certainly won't be in vogue in an interview setting. Instead, go conservative and dress like you're the CEO of the company instead of hoping for a position. A nice suit will go a long way towards showing your strong presence and professionalism.
Show off your communication skills
Communication skills are one of the most important leadership skills around, which is probably why 28 percent of executives agreed communication skills predict future leadership opportunities. After all, how can you lead if you can't properly communicate your vision?
When it comes to the hiring process, you might want to get a jump on showing off your communication skills by recording a video resume. On video, you can show off these leadership essentials while also setting yourself apart from the pack.
If you've gotten the interview, it's time to really brush up on your communication skills. A good leader is a good communicator, so make sure you can clearly and concisely explain how you can bring value to the company. Be assertive and express as clearly as possible why you're the perfect person for the job. Don't forget active listening is also a key part of any good communicator and will allow you to ask great questions when it's your opportunity in the interview driver's seat.
Confidence is key
This isn't a shocking statement, but good leaders are confident. They can exude confidence because they trust their own skills and abilities to get the job done. When it comes to an interview setting, confidence is the most essential leadership ingredient you need.
You need to be cool, calm, and confident when it comes to discussing your skills and qualifications. If you don't seem sure of yourself, why should an employer have faith in your abilities? Developing a confident attitude when it comes to the workplace is the best way to nab the job you want and move forward in your career.
Don't get thrown by curveball questions
Employers will try to trip you up with curveball questions in an interview setting. This is not because they want you to fail, but because they want to see how you work under pressure. So many applicants rehearse answers to the point where a canned response won't really tell employers much about a candidate's critical thinking abilities.
If you're applying for a job in a high-stress environment, expect to be asked some curveball questions in the interview. If you're caught completely off guard or you panic, all the work you've done to highlight your leadership abilities has just flown out the window.
Instead, remember to use your communication skills to listen critically to the question and maintain your confidence as you answer. Let the potential employer see how you work through a problem and even if the answer isn't what they expected, they'll still be impressed by how unflappable you are.
—
When you add these ingredients together, the end result is a great executive presence. This will mark you as good leadership material, even as early as the interview process. Every company needs more leaders, so putting these attributes on display can help you nab your dream job.
What are the most important leadership skills you display in the interview? Share in the comments! 
Photo by FreeDigitalPhotos.net.
Popular search terms for this article:
Powered by Article Dashboard define archive, Powered by Article Dashboard movies in the works, Powered by Article Dashboard digital photography tip