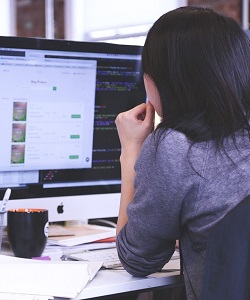 You suffer from insomnia, so you think the best way to spend the night is post some statuses or images on Facebook and start interacting with your friends or fans.
Is that a good decision?
Do you really want to share your wisdom at a time when it doesn't stand a chance of reaching a great audience?
It is very important to post the right content at the right time.
If you want to boost your popularity on these platforms, you need to strategize!
No Universal Rules, Just Tips
Is there a perfect time for posting on social media? There is no universal rule.
Your plan will depend upon multiple factors, including the platform you are using, the audience you want to reach, the type of information you share and the way the users interact with the site.
Don't worry; we have tips that will help you figure out the mystery! Use these to devise your social media strategy.
1. Consider Working Hours
Most people work from Monday to Friday. The best hours to share your updates would be between 7 and 9 a.m., during lunchtime (between 12 and 1 p.m.), and in the evening from 5 to 7 p.m.
The engagement of social media users peaks on Thursdays and Fridays. This schedule will work on most social media platforms. Pinterest is an exception.
Before you start developing your social media posting strategy, don't forget the fact that time zones are important if you have an international base of followers.
If this is the case, you should experiment a lot in order to come up with your own statistics.
2. Use the Times of Chaos
Did a huge affair in politics just hit the news? Maybe there is a hot celebrity topic trending right now?
It's the perfect time to be active on social media, regardless of the type of updates you have in mind. You don't have to get engaged in the situation; simply share your image, status or any other content.
Everyone is on Facebook and Twitter when something important occurs, because they want to become aware of public opinion and engage in discussion. When your update posts during that time, you'll have a larger audience.
3. Analyze Your Audience
Some experimenting won't do you wrong. Post your updates randomly at different hours of the day or night. Of course, you shouldn't do this in a single day.
Make a plan and observe how the audience interacts with your profile. When do you get the greatest number of likes, shares and comments? That information will help you start posting effectively.
The Platform Is Important
Your activity will depend upon the platform you are using. Facebook does not function in the same way as Twitter or Google+.
The three tips mentioned above work for all these platforms, but you should also adapt your strategy in accordance with the website's trends and practices. Let's see how statistics can work to your advantage:
1. Facebook
Posts to Facebook get the most shares at 1 p.m. If you want to get the most clicks, post an update at 3 p.m. (it's the time when most people get tired from their work, so they are looking for some amusement).
Anytime between 9 a.m. and 7 p.m. will be relatively beneficial for your activity. Avoid late evenings and early mornings.
The recommended frequency for Facebook posts is twice a day. Some people get too creative; they try hard to get awesome ideas for statuses every half an hour.
This is not Twitter. Your friends/followers won't be glad to see a feed cluttered with your posts.
2. Twitter
This is the right platform to use in the morning. Most people start their days with this, since the stream of information is a nice way to find out about the latest occurrences as soon as possible.
You can also share you tweets on Mondays through Thursdays between 1 and 3 pm.
Activity on weekends is low, so you might want to skip it unless you have something really important to share. Weekends offer 14 percent less engagement than weekdays when it comes to business-to-business interaction.
You have a chance to get the highest number of retweets at 5 p.m.
3. Pinterest
Unlike the previous two platforms, this is a great website to use on weekends. Saturday is the best day for pinning new images. The right hour to use this platform is different too — on a usual day, you'll get the most attention if you update your boards between 8 and 11 p.m.
Twitter may work during normal working hours, but that's not the case with Pinterest. Save this platform for the moments when most people have free time on their hands.
4. Google+
This social media outlet is (almost) always ready for your content. You can post your content on any weekday with the same chance to attract attention.
You want to get the highest level of engagement? Try posting on Wednesday at 9 a.m.
5. Instagram
Activity on this platform is a great way to start the week. This website gets the most attention on Mondays.
You want to be active during off-hours, since that's when you stand a chance for Instagram users to interact with videos and images.
—
Social media is a wonderful tool, but it can be a complete black hole if you don't have a plan. Use these guidelines to make your own. What best practices can you recommend?
(Photo by StartupStockPhotos / CC BY)