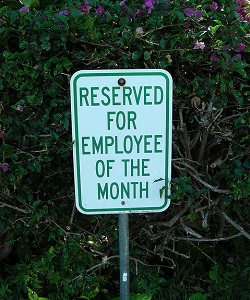 We've all been there.
New team. Old team.
New goals. Complacency.
How do you get your people fired up to accomplish a big goal?
How do you motivate employees to bring their A-Game to work?
Here are five ways to help you push complacency aside and start getting the GREAT out of your rock stars.
1. Lead by Example
People won't care how much you care, until they know how much you care. It would be absolutely insane to expect one of (or any of) your people to do something that you wouldn't first do yourself.
By getting in the trenches, you actually set the standard of what needs to be done and what it looks like to do it correctly and efficiently. Be the benchmark of excellence. It's going to gain far more respect from your people than asking them do it by themselves.
2. Build Strong Relationships
Spend the time finding out what makes people tick. Figure out why they come to work in the morning or what team they can't wait to cheer for later that night.
Find out what they like to do on the weekends, what personal moments they're most proud of or which movie quote really motivates them. Get to know them on a personal level, and don't forget to let them in on some of your quirks as well.
Relationship building is a two way street and needs to be built on trust and honesty. Most importantly, you need to be able to have effective coaching conversations with the members of your team, and you won't be able to have them unless you really know how to get through to each person.
3. Goal Set
Not enough managers do it, and when they do, they barely hit the important points. You need to know what your people are playing for, and you need to know right away.
Waiting around to goal set with your people comes off as uncaring, and definitely does not make them feel a welcome part of the team. Not only does it help you with understanding your associate, it can actually help that associate find some direction in their role.
They need to know what they strive for, and you do too. How can you celebrate someone's success if you don't know what success looks like to that person?
Get in there. Let them tell you what they're going to do by the next quarter. It's going to make it all that much easier to hold them accountable, and get their best performance yet.
4. Celebrate
Seems fairly likely after coming off of goal setting doesn't it? You would think. However, celebrating small successes is one of the most overlooked components to creating associate buy-in.
It is incredibly easy to bypass all of the stepping points along the way and say, "What's next?" If you celebrate small wins while working toward a goal or accomplishment, you can guarantee that person is going to have more positive vibes toward their job, goal or project.
It's also going to create a fantastic working environment in which people WANT to do their best. Celebrating success is a reward system, and everyone likes to be rewarded for his or her hard work.
Once you're in the habit of celebrating, don't forget to do it publicly. What's better than letting every single person in your department know that you have a great team dominating their goals?
5. Gratitude
Thank them. Once they are performing, or even if they are just starting to accomplish small things, thank them. Possessing an attitude of gratitude can go a long way in a business.
It lets your people know that you respect them and that all of the work they do day-in and day-out does not go unrecognized.
Let's face it, when you're crunching a tight deadline, and you're barely sleeping, let alone engaging in any sort of work life balance, you need to know that your hard work is appreciated.
Oh, and guess what? Regardless of how exhausting pushing for that tight deadline was, they are going to do it again, because they know it's appreciated.
So, get out there! Get in the trenches, build strong relationships and let your people know that you care. A culture of performance isn't created overnight. You first need to have your people buy in to the goal if you expect them to accomplish it.
(Photo by Christina D.C. Hoeppner / CC BY)