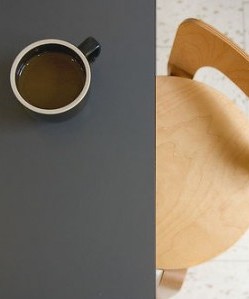 Good home office plans can influence how successful you are while working from home. This means having the resources to get the job done, minimizing distractions and being comfortable.
Home office plans go beyond a floor plan for your office furniture and equipment(although some are mentioned below). You need to take into consideration the following elements:
A Door
You need a door so you can shut it. It will help you keep the distractions on one side and a productive environment on the other.
This isn't automatic. Your family needs to know what that shut door means. And they need to come to an understanding of when it's OK to knock on it. Which is something you're going to have to figure out for yourself. Don't let me tell you know what's important enough to merit your attention.
The door also sets a boundary that separates your office from the rest of the house. It reinforces the concept that the office and what's inside is for your business — and not for school projects or building forts. (Filing cabinets look like the building blocks of a good foundation…)

NC-17 Rating
I'm not talking about downloading and watching porn in your home office. But you should consider banning the children from your workspace. Simply because it discourages from "borrowing" any of your supplies or equipment.
Dedicated Equipment
All home offices require a computer, printer and phone. Those items also are essential parts of most modern homes. But it's not a good idea to use them for business and family. You don't want to keep client information on the same computer your teenager is using for chat (and possibly collecting malware).
And not having to wait for coworkers to print their documents first is one of the luxuries of working at home. Having your own printer prevents the arguments about what is more important: a proposal for a new client or a term paper on Shakespeare.
A Good Desk
What that looks like is up to you. A large surface area is important to some workers. Others just need enough room for a monitor, keyboard and mouse pad. You need to decide what works for you.
Accessibility
Your home office plans should make sure needed resources are easy to access:
Line of sight: You should be able to see everything you need. Put away files and books that you rarely use. Make good use of bookshelves and vertical files.
Reachability: Place your most commonly used items within arms length from your keyboard. I'm talking about your phone, notepads, earphones and (perhaps)  printer.
"Within a roll": OK, maybe you don't need the printer so close that it needs to be right beside you. Making sure it's close enough to your chair  so that you can get to it with one push — or "roll". It sounds lazy, but it honestly saves time.
Filing System
One of the best ways to keep papers from piling up on your desk, couch and any available surface area is to create a simple filing system.
Filing cabinets are good for material you don't need very often. These are the archives of your business. Use bookshelves and desktop vertical file holders for current materials. Make the things you often refer to or add to handy.
You can organize alphabetically, priority, type of work or whatever makes the most sense to you. Just don't let it pile up.
Lighting
Natural light would be the best. Having a good window also offers a good break once in a while. (Of course the challenge is not to allow the brief break to turn into procrastination.)
Then add as many lamps or fixtures as you need to give you adequate lighting.
Ergonomics
Plant you feet firmly on the floor. Learn how to adjust your office chair so your elbows form a 90-degree angle when you type. Look straight into the monitor.
Get the kind of desk and office chair you can adjust to make an ergonomically-friendly workstation.
Plants
Some people swear to the positive energy created by having home office plants. It can't hurt to try something simple and green.
More tips for a home office plan
What are the most important parts of your home office plan?
(Image courtesy of mlpdesign under a Creative Commons 2.0 Attribution-NonCommercial-ShareAlike 2.0 generic license.)
Popular search terms for this article:
Home office plans, Office Plan, home office desk plans, awesome home offices, awesome home office, home office plan, awesome home office ideas, creating a home office, how to plan a home office, home office plans and designs