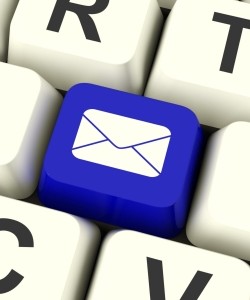 For all the convenience that email offers, it's easy to get bogged down by the sheer volume of messages we receive and the time it takes to respond to each one. Instead of letting emails pile up and attempting to tackle the problem later on, follow these simply tips to keep your emails organized and gloriously clutter-free inbox.
Delete emails on a daily basis.
I used to delete emails on a monthly basis after I reached my storage capacity and wasn't allowed to send another email until I purged a few. Then I began deleting them on a weekly basis which still meant I had to open and reopen 70+ emails in an attempt to figure out what was worth keeping and what belonged in the trash.
Now I delete emails on a daily, or even an hourly basis, to keep a clutter-free inbox.
After reading an email you should do one of two things: move to another folder or delete. It's that simple. Clean as you go, and it won't be something that sits on your to-do list later on.
Create folders and regularly maintain those folders.
Part of being organized is being specific so you can find things quickly and effortlessly when you need them. When it comes to email, this means streamlining the reading/responding process with folders to store what can't yet be deleted.
Here are a few folder ideas:
–  A folder that houses emails that require a lengthy response or are time consuming to read. This should be cleared out weekly.
–  A folder that houses instructions or important information that you will need to refer to in the future.
–  A folder that houses emails that you are waiting on a response for or need to follow up on later.
Whatever you do, don't create an overabundance of folders, this just puts a different face on the same clutter problem.
Don't hoard emails to save email addresses.
I was guilty of this for a long time before I realized how backwards this thinking was.
If you know you will need to contact someone again, save all of their information (be specific as possible) in your address book — the information will be far easier to retrieve later, your inbox will be clutter-free, and you'll have a database of contacts to refer to in the future.
Unsubscribe, unsubscribe, unsubscribe.
It can be easy to quickly delete all of the daily deal offers and store coupons you receive as soon as they hit your inbox, but it saves a significant amount of time in the long run to just unsubscribe from the list.
You don't need to rack your brain to remember all of the lists you've subscribed to in the past, just go through the process each time you receive an unwanted email — and be extremely discriminatory.
I used to think I wanted to know when certain sales were going on until I paid attention to how often I actually read or took action on the emails I received — less than 10%.
If you there are certain emails you do want to receive, but not all the time, use email filtering.
Respond quickly to short emails.
If you receive an email that only requires a short response and you have a minute to spare, do it now. This will keep emails from piling up in your inbox and turning a quick task into one that drags on for hours.
However, this doesn't mean it's best to be notified every time you receive an email and stopping everything just to type out a response. Check your email once an hour or twice a day and respond to short emails then. This will ensure your focus isn't constantly being challenged throughout the day.
Don't think that an email in your inbox will serve as a reminder later on.
You might think that seeing an message in your inbox will spark a memory of someone you were suppose to contact or a task you were suppose to complete, but the next time you check your email, you'll have more to respond to and more to think about — so you'll likely overlook it.
Your inbox doesn't work well as a rolling to-do list, so keep the two separate to ensure you are on top of everything you need to be. And, of course, to keep your inbox from reaching capacity.
What do you do to keep your email organized and have a clutter-free inbox?
Photo by FreeDigitalPhotos.net.
Popular search terms for this article:
Powered by Article Dashboard all my children, Powered by Article Dashboard free past life search, Powered by Article Dashboard lost message board, Powered by Article Dashboard frequency drives, Powered by Article Dashboard types of performance appraisals