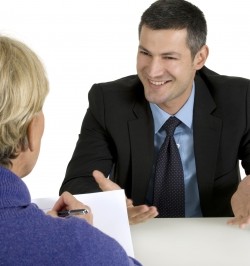 I'm sure you've been asked this question at an interview at some point in your life.
Coming straight from the 'stock questions to ask interview candidates' manual, the "Where do you see yourself" question sits neatly alongside "What's your greatest weakness?" and "How would you deal with a difficult situation?"
It's a lazy employer who asks one of these 'difficult' questions. Both sides could probably just as well do the interview over the phone and save everyone a lot of time!
Unfortunately, if you want the job you're going to have to sit through these painful interviews and prepare to give the same stock answer.
When thinking about what you need to prepare for the "Where do you want to be in five years?" humdinger, you're going to have to refrain from saying "sipping a cocktail on a desert island after winning the lottery", and give a more considered answer.
This question is essentially asking you where you see yourself in the company should you get the job. It's asking you to highlight your ambitions and your dedication to your career — are you genuinely interested in the business, or are you just using them as a stop-over?
However, it's also one which could land you in it. Aim too high and you'll come across as being too keen – aim too low and you'll be seen as lacking in motivation.
So how do you get the good fit?
Pick up any interview tip book and the white bread answer goes something like this:
"I see myself as a productive member of the [Marketing] team.  In five years' time, I hope to have progressed within the business to be a team leader, helping the company succeed in its operations".
Yawn!
Although you could be tempted to go down this path, do you really want to rehearse the same, tired answer which other candidates will have given, time and time and time again?
In order to answer the question fully and really stand out in the interview, you're going to have to be able to show your commitment, while highlighting your skills, your ambition and your motivation at the same time.
Step 1 – Research the company
In planning your answer, make sure you research the business fully and what the department you're applying to be part of actually does. What are their goals? What is their strategy and vision? Try and tell them something they don't know themselves.
Step 2 – Write down your skills
What are your greatest skills that you have which you can bring to the business? What have you got which no other prospective candidate they've seen has? Think of this part as hitting their impress button.
Step 3 – Show motivation
By being able to reassure the interviewer that you're ready to make a long-term commitment to the company and will grab any promotion which comes your way with both hands will get them thinking they have an ambitious candidate on their hands.
Putting them all together. . .
"I've been a long admirer of [company] and the way it [does this / and that]. You have a real reputation for delivering excellent [services / products] – I even [used this / that] the other day! My skills in [marketing] have helped my current company achieve [this] and I believe that they'll transfer seamlessly to the role of [role x]. In five years' time I hope to still be with the business, perhaps even leading the [department] team, but I know that there will be many great internal opportunities that could be a good fit for my skillset and interests."
Ta daa! A great answer to a stock question. Of course, you could then be thrown the "What if there are no internal opportunities over the next five years" hardball.
Well isn't that something you want to know? Bat that one back at them – after all, they won't want to appear to be an employer which has no career progression in place.
When you look back at where you were five years ago, you'll probably not have pictured yourself where you are now.
If you honestly have no clue about your future goals, then don't feel like you have to lie. Although five years is a long time to plan for and the chances of you being in a different job, and even a new career are very high, you still need to prepare for that dreaded question cropping up. The employer wants to see how motivated you are and if you're a good fit for their business, so prepare a well-thought answer.
How do you answer the question "Where do you see yourself in five years?" Let us know in the comments!
Photo by FreeDigitalPhotos.
Popular search terms for this article:
where do you see yourself in 5 years time, where do u see yourself in 5 years, Powered by Article Dashboard what does it take to do business management, where, Where do you see yourself in five years time, Powered by Article Dashboard business management skills, where do u see yourself in five years, how to answer where do you see yourself, Powered by Article Dashboard writing contest, how to answer where do you see yourself in 5 years