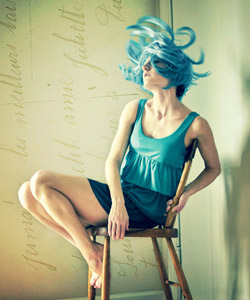 Though many people dream of working designing their own work schedule and getting projects done in their pajamas, working from home isn't always a picnic. Yet, if you have taken the telecommuter option or have embarked upon a home-based business, here are a few tips to keep you sane, thriving, and productive on the home front.
Set Up Your Working Space
Though the basement level of your home may seem like the ideal place to set up your home office, if there's no sunlight and it's cold and musty, chances are you won't be very productive there. The kitchen table isn't a great option either—constant traffic and homework mixed in with your work files doesn't contribute to your productivity.
Try This Instead: Set up shop in different rooms of your home and see where you feel most ready for working and where you get the most accomplished. Some love to place their desk facing a window so they can look out. For others, seeing the neighbors hanging their laundry is too much of a distraction. Before you start any home office construction projects, figure out what space suits you best.
Dress for Success
Some work-from-homers insist that they can't take themselves or their work seriously if they aren't showered and put together for the day. While many envision that working from home means never getting out of your yoga pants and sweatshirt, that doesn't work for everyone. And then there are some who are just as productive in their skivvies as in their suit.
Try This Instead: Experiment with different outfits to find which works for you. If you're a freelance writer, maybe you can pull off the pajamas and ponytail. If you meet frequently with clients, you may not be able to evade business attire.
Watch Your Intake
When the refrigerator is just a quick walk down the hall and no one is monitoring your time card, it's easy to get into the habit of taking breaks by visiting the kitchen for a snack. This can first lead to under-productivity, as the short breaks sometimes turn into long breaks when you notice the dishwasher really ought to be emptied and the silverware rearranged.
Secondly, it can lead to weight gain.
Try This Instead: Don't get into the habit of rewarding yourself with food when you finish a project or popping into the kitchen when you feel bored or isolated. Set a regular meal schedule and then if you need a break step outside, not into the kitchen.
Strategize Your Work Schedule
Studies show that you are really only to handle about 90 minutes of solid work. After that point your brain starts to overload and productivity decreases. Eight hours of solid work isn't always as productive as it seems.
Try This Instead: Schedule and divide your day's tasks into manageable chunks, and then intersperse other activities. If you work for several different clients, take each one and plan to work on your project for about 90 minutes, then transition to something else.
Part of the benefit of setting your own schedule is being able to do your errands when the rest of the world is at work. So be strategic. Work for an hour or two then take that grocery store break. Come back, put in another hour or two and then take a break to meet a client or return some phone calls.
You get more done in more areas of your life when you break up the tasks and alternate them, giving you brain and body the chance to refresh and reset.
Get a Group
Now that you don't have the office crowd, you'll need to be more intentional about establishing community. Don't fool yourself into thinking you don't need it. You will actually be more productive and saner while you're working when you make the time for interaction.
Try This Instead: Consider joining a small business networking group or your local Toastmasters chapter. Meet other people doing work similar to yours. We all need encouragement and connections. And you never know when the connections may lead to more work. These groups have a mindset geared towards helping each other succeed.
Make time for your friends as well. Schedule lunch dates or, if you have other work-from-home friends, suggest meeting up at a coffee shop to spend the afternoon working there. This gives you the chance to have a little social time and a change of scenery, while still getting work done.
Work It Out
Being inside all day can drive anyone crazy. Working from home can be even more sedentary than an office job. The farthest you walk may be from your computer to the bathroom. This not only contributes to weight gain and poor physical health, it's also is a recipe for depression and anxiety. Add exercise to your daily to-do list and give it the same priority as a work appointment.
Try This Instead: A daily walk or run, especially first thing in the morning, is a great way to clear your head, mentally organize your projects for the day, and stay in shape.
Though many think they'd love to work from home, it isn't as effortless as it seems. Telecommuters and freelancers have to be intentional and strategic to make working this way happen.
How do you work from home efficiently? Got something to add to the list?
—
Photo by Anna Gay
Popular search terms for this article:
how to stay sane, how to stay sane working from home, how to keep sane, how to stay social while working from home