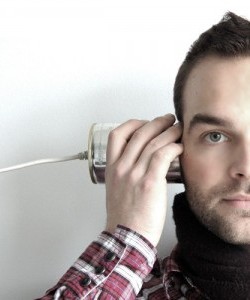 "I like to listen. I have learnt a great deal from listening carefully. Most people never listen."  – Ernest Hemingway
Whenever I am in the middle of a discussion, I try not to talk too much and always listen to the person conversing with me. But sometimes all of those words wind up transforming into a garbled mess. At that point, I realize I'm actually impatiently waiting for the other person to stop talking. That way I can start talking again, feeling that I've got all eyes on me. Not a good practice, but it happens to the best of us.
In recent studies by Dr. Ralph Nichols, he mentions that almost 40% of the day is spent on listening to others. What amazes me is that the efficiency of listening to what we hear is only at somewhere around 25% — and I'm not talking about the physical comprehension. Is your boss giving you some tasks and you find yourself in the uncomfortable position of asking again what the exact steps were? Do you sometimes find it hard to listen to people that you really don't care for all that much?
As with many other skill sets, in order to become efficient and effective at listening you need to train yourself to do so. Here are 12 tips that will put you on the road to better listening.
1. Find common subjects and try to stick to them as much as possible.
If you take a positive stance towards a specific subject, you will find that in most cases there is enough information to enrich your knowledge. No matter how sterile the conversation may be, you can still get some valuable information from it. Try to exclude personal elements in these subjects, as this is counterproductive to efficient listening. For example, if you love basketball and the person you are engaged in conversation with is passionately talking about soccer, you will likely find yourself wanting to end the conversation (or leave the room altogether). Try to exclude your personal preferences and be as positive as you can when someone is talking about something that you can tell they are interested in. Look at your conversation as a way to educate yourself — even if it is something you don't necessarily like. Who knows…you may even change your mind about your feelings on the subject matter by the time the conversation is through.
Click Here to Read Article …
Popular search terms for this article:
how to listen better, listening tips, tips for listening, tips on listening, tips for better listening, how to listen better during conversation, better listening, how to listen better at work, tips to listen better, tips listening