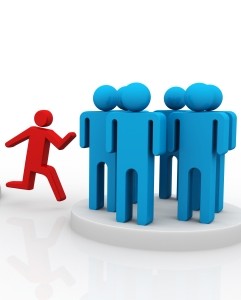 Everyone's been there: that point in your career when you dread waking up in the morning to go to work. You'd give anything to just go home, hang out with the family, whatever — just as long as you don't have to work.
But wait — haven't you heard that when you find a job you enjoy, you never have to work a day in your life? For whatever reason, you aren't enjoying your current job. You're no longer content with your professional situation, and you're thinking that it might be time to change jobs or consider a new career.
How can you be sure? A career switch is a drastic move, whether it's from one company to another or taking a position in a new city. Either way, there's going to be financial and logistical costs. For that reason, it's good to know some signs that it's time for you to pack up your things.
Start by looking at why you're no longer content with your job. A change in a job's environment could be the issue — managerial changes or turnover is often the biggest cause of bad vibes at a job. Humans are creatures of habit. If we get thrown out of our comfort zone for even a minute, panic ensues. If a new manager simply has a new way of doing things, give him or her a chance before you clean out your desk. However, if corporate has sent a tyrant your way, it may be worthwhile to explore your other career options.
The problem might be the people you work with. When a team clicks, they're often the driving force for a happy workplace. The staff that has worked for me the longest often expresses how much they enjoy those around them. However, this sort of cooperation doesn't always happen. Sometimes coworkers have a way of draining our energy and making our working lives miserable. If this is the case with you, it might be time to get out.
Finally, money could be the issue — a change in wages can threaten a person's livelihood. Or, perhaps you feel like you deserve a raise, but more money and upward mobility isn't in the cards for you at your current job. Maybe you've been overlooked for a promotion time and time again due to office politics. If it's enough of a problem, a new job might be the answer.
So you've decided to leave. Do you have an escape route? Be smart about making such a drastic change in your professional life. Make sure you're trading up to a career that you'll be passionate about so you don't end up in the same situation six months down the road. I've asked colleagues and friends who quit a job how they did it.
The smartest ones reached out to their business connections (over LinkedIn, for example) and asked about openings. This way, they already had a friendly face and a respected connection at their new job. We all know a new place is much easier to adjust to with a friendly face by your side.
With the state of our economy, I'd like to close by saying that the most important thing is to plan ahead. There's no sense in making a spur-of-the-moment decision when it comes to the job you need to support yourself and your family. Then again, there's no sense in staying in a job you hate either. Get out when you can — just have an exit strategy.
How do you know it's time to change jobs? Share your tips with us in the comments.
Photo by FreeDigitalPhoto.net
Popular search terms for this article:
when is it time to change jobs, how to know when its time to change jobs, how to know when to change jobs, when its time to change jobs, Powered by Article Dashboard small business loans no credit check or for, when it\s time to change jobs, how do you know when it is time to change jobs, Powered by Article Dashboard day loan, Powered by Article Dashboard social change