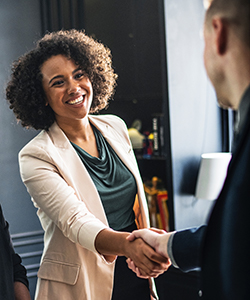 Cutting edge digital marketing techniques or on old-school strategies? What works? Both work well. Use them both.
Cutting-edge marketing techniques, based on the Internet, work well. Digital marketing has an enormous reach and its inexpensive. Meanwhile, old-school marketing, which existed before the Internet, still works today. But it is expensive, costing you more time and money. And it also has fewer metrics. making it difficult to target your ideal audience.
What are some good cutting edge marketing techniques?  The use of explainer videos, blogging,  and email marketing.  Meanwhile, some old school marketing strategies like trade shows, networking,  and print advertising continue to work their timeless magic.
Cutting-Edge Marketing Techniques
1. Explainer videos:
An explainer video on your homepage greets visitors when they land. It explains who you are and what it is that you do. It's warm and welcoming and tells people if they are in the right place.
You can customize it any way you like. For instance, you can tweak the audio, visuals, or text until you get your message across.
Another nice thing about explainer videos is that you can share them on your YouTube channel. It's a smart way to drive traffic to your website
2. Blogging:
Blogging allows you to share your knowledge.
As you blog, an interesting thing happens: you expand your knowledge. This happens because you will need to research your ideas. Then by explaining them, they become clear to you. So, think of blogging as a way to increase your skill sets.
Blogging may be one of the best ways to establish yourself as an authority in your niche. By addressing readers questions, you are winning them over.
Blogging helps you build a relationship with your audience.  You will know what they think about your ideas and choice of topics based on their comments. This feedback loop can help you learn from any mistakes. You'll also learn what people like and dislike and how to come up with more relevant topics.
3. Email marketing: 
Building up a subscriber base is a way to become a trusted friend. Instead of you hoping people will land on your website, you go to them, communicating on a regular basis.
Over time, you'll build rapport. And, if you invite them to respond to emails, you'll learn how to serve them better.
Old School
1. Trade Shows:
 Trade shows allow you to meet your customers face-to-face. You get to know them. You get a much clearer idea of your customer avatar.
Building your brand happens effortlessly at trade shows. People will learn about your brand and get to know more about your business.
Finally, you will understand more about the industry you are in and have an idea of where it's trending
2. Networking:
Expand your influence by joining your local Chamber of Commerce. Also, consider service clubs like Lions or Rotary.
You'll enjoy meeting with other business people. Over time, you will build a referral meant network. You can recommend customers to a complimentary business. They, in turn, will recommend you to their customers.
A little-known advantage of networking is serendipity.  You might find a mentor. You might develop wonderful relationships with a peer. You never know what might happen. You might even develop a wonderful partnership or get involved in joint ventures.
3. Print advertising:
This will work for as long as people continue to read newspapers and magazines.  Although you may believe that all your customers exist online, this is not true. Some people love reading newspapers and magazines.
What's more, your advertising will stand out because there is far less competition.
Also,  you don't have to worry about selecting your audience. They will self-select themselves. Only those who resonate with your message will read your ads. And a few will respond to your offer.
Choosing Your Marketing Strategy
How do you determine which marketing techniques your business needs?
The type of marketing you choose will depend on several things. It will depend on the nature of your business. It will depend on your budget. And it will depend on the medium your audience likes.
The only way to figure it out is to experiment. Then drop what doesn't work and keep what does.