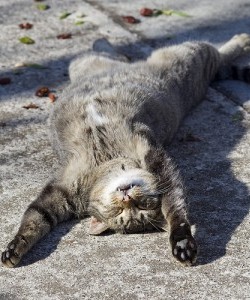 Sleep is an important factor to consider if you intend to enhance your overall productivity. A good night's sleep can ensure that you remain energetic throughout the day.
Here are five sleep tips to get more out of your time while you're awake:
1. Power Naps Work
A power nap of 15 to 20 minutes during the day is great for recharging your mind and body. Read more about how napping can increase brain power.
2. Know How Much Sleep You Need
For some, a sleep of 6 hours is enough while people like me need to sleep 8 hours in order to stay productive. The bottom line — it's important to know how much sleep you need before you can start working on your sleep pattern.
3. Get to Sleep Faster
People often complain that sleep for them usually arrives an hour after they hit the bed. This is not an uncommon problem. To get rid of this problem, you need to try out things that might help you get to sleep faster. Like reading a book before going to sleep, listening to music or taking a shower.
4. Follow a Sleep Routine
An erratic sleep pattern could be the reason why you suffer from sleeplessness. Try to follow a sleep routine that includes a fixed time when you hit the hay and a fixed time when you rise and shine.
5. Comfort Ensures Better Sleep
A crumpled bed or sleeping in jeans isn't a great idea if you want to sleep well. So make sure you've got a well-made bed (you could make your bed immediately after you wake up) and be sure to change into cozy pajamas before you hit the sack.
(Image courtesy of kaibara87 under a Creative Commons Attribution 2.0 Generic license.)
Popular search terms for this article:
sleep and productivity, sleep productivity, Enhanced productivity, productivity and sleep