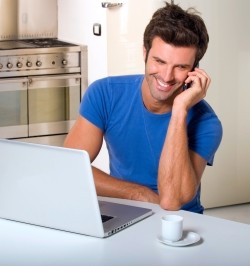 Through no fault of their own, many are being forced to go it alone. Redundancy or a lack of opportunities means that entrepreneurship is the only option in an unforgiving labor market.
The job security once on offer can prove a struggle to find in today's tumultuous economy and the halcyon days of a 'job for life', backed up by healthcare and pension provisions, can feel like finding a needle in a haystack.
It's against this backdrop that self-employment appears to be going through something of a renaissance; growing numbers of people opting to join the litany of freelancers, contractors and small businesses out there, taking employment back into their own hands.
As such the self-employed workforce is swelling, a recent study by MBO Partners suggesting that by 2020 independent workers will be the majority in America, solo workers becoming the norm.
Looking at studies like that, you too might soon find yourself going it alone. This can be a pretty daunting prospect, so to help you on your way, here's four pointers to keep in mind:
1. Stick to what you know
All too often those going it alone can be blinded by lucrative looking career options and markets, entering them without the adequate expertise and then struggle to succeed. Instead, you're better off considering your own strengths and thinking about how best you can apply these.
Through playing to your own strengths and drawing upon your own expertise, you'll be better placed to fend of competitors offering a similar service or product. With burgeoning numbers going it alone, it's even more important to be excellent at what you do. So consider this before plunging into self-employment.
2. Continually produce quality
To survive self-employed you'll need to consistently add value, continually producing quality so that your customers or clients keep on coming back for more.
Seek feedback from your clients or customers, so that you're clear on the ways you can enhance the performance of their business or the quality of their experience. Once you've identified their needs, endeavour to meet them continually and as such, selling will become simple.
3. Never shirk a chance to network
During my freelance writing days, I lost count of the number of networking events I went to. They were an integral part of my marketing strategy. Some think that they're more the territory of big business but that's simply not true; networking is a key asset for small businesses!
A crucial thing to remember is that networking is not all about selling, so don't get disillusioned if you're struggling on that front. First and foremost see networking events as an opportunity to build a reputation and relationships.
Ensure that you find ways to network with people offline as much as online, and integrate both approaches into your marketing plan.
4. Be willing to be flexible
Speaking from experience, I've found that the most successful self-employed folk are those who adopt a flexible approach to both their life and their business.
The defiant types, who stick to their guns when their service or product clearly isn't selling, usually find themselves facing failure. After all, you cannot sell what people don't want.
In contrast, those who are willing to be a little more flexible tend to be more successful. This flexibility can manifest itself in a number of ways; through being willing to adapt their product or service in line with customer or client needs, or by altering their hours, to the extent where business might infringe on their personal life.
Self-employment can be extremely liberating but at the same time it can be tough. Adhering to these four principles though, you should be better placed to succeed.
Are you going it alone and pursuing entrepreneurship? What tips would you like to share with up-and-coming entrepreneurs?
Image by FreeDigitalPhotos.net