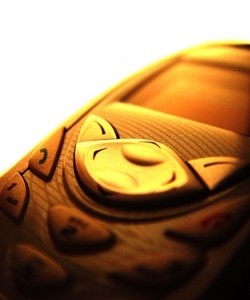 When I was recently checking out the top five mobile phones in America (according to the Nielsen Company), all but the Samsung Intensity were smartphones.
Apple iPod 3GS
Samsung Intensity
Motorola Droid
RIM Blackberry 8500 series
Apple iPhone 4
And just to make a case for Apple, the iPhone 3G was 6th on that list. Now it's possible some of the rankings on this list has changed since then, but the fact remains that smartphones dominate the mobile marketplace.
Why are they so popular? Well, on smartphones you can do things like check your email, update your Facebook and Twitter statuses, get turn-by-turn driving directions, play games, watch videos, read a newspaper and listen to music. All that and you can make a phone call.
When my boyfriend and I snuggle up  under the covers at night, the very last thing he does is check the news headlines on his iPhone. This is not romantic. Besides doing that, his new obsession is Words With Friends; he plays it constantly. If he can't sleep, he'll play Ragdoll Blaster while holding his iPhone so close to his eyes that it's practically resting on his nose. He loves his iPhone with a passion that I can't quite understand.
As for me, I do not own a smartphone…and I don't even want one.

Is it shocking that a 30-something woman who works in the media, doesn't want to stay "connected" through her phone? Maybe. But hear me out before you call me crazy.
Why a Smartphone Isn't for Me
I am the editor of a monthly regional magazine and a yearly, statewide wedding magazine. I manage the social media for those two publications, along with a third. I teach a magazine workshop class one night a week at a local university and I am a freelance blogger. I am on the computer all the time. Most of the time I'm doing two things at once and when my phone does ring…well, it annoys me.
I could literally work all hours of the weekday — but I refuse to do that. I could work every weekend, but I don't want to do that either. I have other things to do, like paint my spare bedroom, play with my niece, knit a baby hat, make dinner, go cross country skiing and so on. In other words, I have a life outside of the world wide web. And I like that life.
Why Smartphones Can Be Dumb
Thirty-one percent of all U.S. mobile subscribers have a smartphone. And they use them all the time—even while driving (which is now illegal in some places). Children are getting smartphones at younger and younger ages. Why do they need a smartphone? Who knows what sorts of things they're doing with them? Here are some the things they could be doing with these devices:
Sending threatening text messages to someone they don't like.
Watching R-rated video clips.
Taking inappropriate photos with the high-resolution camera and emailing them to their girlfriends or boyfriends.
(That's not to say that they are doing those things, but they certainly could be. And some are.)
My boyfriends's sister came to visit us with her kids one weekend and she spent the entire time on her smartphone. Even at the dinner table. Sure, she wasn't working (she was texting), but what kind of example is she setting? Not only is she not teaching her children manners, but she's telling everyone around her that they aren't as important as what is happening on the little device she holds in her palm. It's as appalling as it is rude.
And it's not just her — more and more people are doing it. People can't just sit still anymore. They constantly have to be doing something. Smartphones just cater to this need for constant information, which leads to isolation. It amazes me that "unplugging" has become such a luxury.
Conclusion
I don't want to be held hostage by a smartphone. I don't want to be so easy to reach all the time. Undoubtedly, the more tools you have at your fingertips, the more you will be asked to use them. When a message like this arrives from your boss:
"Hey, could you make a quick change to that report and send it off to corporate?"
…is that something you want to have to deal with on your beach vacation? Just because you can doesn't mean that you should. Yet if you set the expectation by being connected all the time thanks to your smartphone, you're setting yourself up to have to react to these kinds of messages — regardless of day, time and situation.
That's why I'm happy with my dumbphone. It costs me a quarter of what it would cost for me to have a smartphone, and I can keep my life outside of the office. I can do my work during normal business hours and not feel tempted to answer that email from my client at 9 pm. I'm not able to watch a movie on the go, but that's okay with me since I can't really see it on a screen that small anyway. With screen size in mind, there's no sense in reading The New York Times on your phone, either.
Now the iPad…well, that's a different story. And a whole different article.
(Image courtesy of drp under a Creative Commons Attribution-NonCommercial-NoDerivs 2.0 generic license.)
Popular search terms for this article:
dumbphone, dumb phone, going back to a dumb phone, what is a dumb phone, i love my smartphone, going back to dumbphone, i want a dumb phone, dumbphones, should i keep my smartphone, smartphone to dumbphone