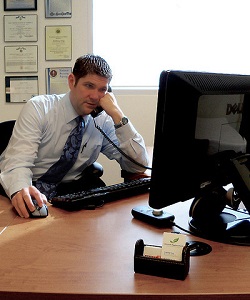 Communication is a pivotal component in any business.
As such, you want to make sure that you have an effective means of communication to keep the daily business processes flowing.
If you've been researching the various options your business has for telephone communications, then you've likely heard of Voice over Internet Protocol (VOIP) systems.
Such phone systems are becoming increasingly popular for businesses of all sizes as the popularity of the Internet and modern technologies continues to increase.
Below, you'll find a more in depth understanding of what a VoIP system is and some of its benefits for businesses.
How Does a VoIP System Work?
To fully understand whether a VoIP phone system is ideal for your business, you must first get a clear understanding of what it means and how the system works. Generally speaking a VoIP system is a phone system that transmits and receives sounds through a digital network as opposed to older telephone systems that require a landline.
The calls you make are transferred into packets of data that are then transferred through the network. VoIP phone services can be used to make calls to landlines, cell phones and other VoIP users as would any other means of communication.
What Equipment is Needed to Use a VoIP Phone Service?
Of course when considering a new process or service for your business, you want to assess what the overall costs will be to you as a business owner. While prices will vary by service provider and types of products you choose, the general requirements for a VoIP service to work within your place of business are:
Analog Telephone Adapters – The analog telephone adapter (ATA) is a phone adapter that is required to act as a interface for translating data between a traditional phone line (landline, mobile phone) and the digital VoIP lines.
Telephone Sets – While you don't have to have a traditional landline for VoIP services, you will need a telephone sets. These sets are necessary for creating an interface between your company and the VoIP service provider. The phone sets are both an input and output device. There are several types of phone sets you can consider, so discussing this with your chosen service provider will be ideal.
VoIP Routers – A router of course is the device that connects you to the Internet. However, some service providers may require you to have a router exclusively to connect your VoIP telephone sets to the internet.
Computer Handsets – Handsets for your company's computers will resemble a telephone, however, they are connected to the computer directly through USB. Handsets allow users to utilize the VoIP system comfortably and also allow for multiple users to connect to the same phone.
Computer Headsets – A common input and output device needed for phone systems is a headset. Such devices allow you to hear phone conversations as well as speak to the caller with ease.
What Are the Benefits to VoIP Services for Businesses?
So how exactly can VoIP services be beneficial to your organization? Megapath, a data, voice and security company has a video that goes over the various advantages to having a reliable business VoIP service provider. To give you a general idea of what you could be taking advantage of, here are three benefits to consider:
Saves You Money – Of course every business owner wants to save money on operational costs. Well, investing in business VoIP telephone services is certainly a lot cheaper than it would be to use traditional landlines. VoIP services overall are advertised to be a lot cheaper than other forms of communication, including the ability to make long distance calls at a much more affordable rate.
Accessibility – The great thing about utilizing a digital phone network such as VoIP services is the overall portability. Since Internet capabilities are accessible across the globe, staying connected with your staff or clients is easier than ever before.
As long as you have access to a broadband Internet connection, you can log into your phone system and start conducting business. When accessibility is simplistic and pretty commonplace, this essentially boosts productivity in the workplace.
Whether your staff telecommutes, travels frequently for business or has clients from across the globe, they are able to easily connect, communicate and stay in touch in real time.
Multi-Purpose – Many VoIP services provide more than just a means for communicating via telephone. Aside from making and receiving general calls, you and your staff can even conduct conference calls via video with your VoIP services. This way, everyone can stay connected no matter where they are around the world.
—
So there you have it … a digital network telephone service that can ultimately save your business time and money while also improving overall productivity.
If you decide that voice over internet protocol services are ideal for your organization, take your time in selecting a reliable service provider that will offer you a reasonable rate and efficient services that allow you to take your business communications to the next level.
(Photo by Andrew Wippler / CC BY)