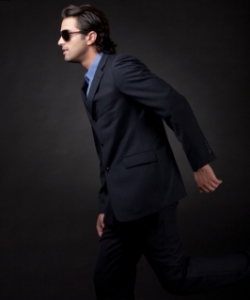 Congratulations on your promotion, by the way. As a new manager, you're probably jazzed about the raise, the fancy new job title, and having an extra bit of authority within the organization. Considering your awesome work ethic, extensive experience, and great attitude, you earned it!
But what do you do now? Transitioning from individual contributor to manager isn't easy for everyone. To help you out, I spoke with a few new managers and an executive coach to get their top tips for first-time managers.

1. Get to Know Your Team
If it isn't obvious already, the existing working or personal relationships you already have with your team will change. Not for the worse, though. You'll just need to get to know them in a new way.
For example, one of your responsibilities as a new manager is helping the people on your team meet their individual career goals. While you've probably never had this discussion before, you should plan to have it as soon as possible. You'll want to make sure you understand what each person is hoping to achieve, what they want out of their position, and how you can support them along the way.
I spoke with Deirdre Walsh, senior social media manager for Jive Software, about her experience as a first-time manager. Deirdre started managing a team of two in November 2011 and immediately focused on trying to understand her team and their career goals. She says, "If you start by understanding the career goals and plans for each person, it will help you make better decisions that will benefit the company and the individual."
2. See Your Work in a New Way
When you were an individual contributor, you had the opportunity to show off your work through projects, presentations and exceeding sales quotas, for example.
Now, as a manager, you don't have the same opportunities because you spend most of your time in meetings with other managers and discussions with your team. The reality is you have much less time to work on the same types of projects as individual contributors, and your work is less visible to your colleagues and supervisors.
"At first you may feel like you're not getting tons of tangible things done," says Andria Elliott, a marketing communications specialist at National Instruments. "All your work now shows through a team of people instead of your individual self."
This shift can be challenging, but if you focus on your team you'll eventually learn to see the fruits of your labor. Elliott adds, "You learn to work through others, offer guidance and give direction, while finding the right balance between people management and driving your own projects for the business."
3. Learn How to Listen Hard
If you learn anything as a new manager, it's how to listen to your employees. Knowing how to listen to your team, and how to restrain from trying to be the only one with the right answer, will help you build credibility with your team and hopefully understand their concerns at their level.
"There's so much power in an individual feeling like they're being heard by management," says Cheryl McMillan, an executive coach for Vistage International. "Employees can accept a lot, like a decision they may not agree with, because they feel like they were heard."
4. Know You'll Get Better at It
Don't be surprised if you aren't good at management in the beginning. Just because you were a star performer with great experience and people skills doesn't mean you'll know how to actually manage a team of people at the start.
The reality is that new managers are new hires too, and they need developmental training just like anyone else in an organization.
"Some people can be good at it right away," adds McMillan. "But there's a big misconception that people can do this stuff naturally. Management is really a science and an art. People need basic knowledge first and then practice."
5. Get Some Training
Before you actually seek out training, figure out what your strengths are and what you need to focus on improving within your new role. Building a solid plan with development goals and consistent performance reviews with your supervisor will help you assess your progress during your first few months as manager.
What's your biggest piece of advice for/as a new manager?
Photo by photostock.
Popular search terms for this article:
tips for new managers, how to be a new manager, how to be a new manager in an existing team, development goals for new managers, advice for new managers, first meeting as new manager, how to come in as a new manager, new managers, New Manager First Meeting