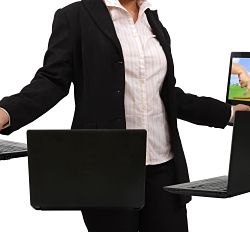 When it comes to running a small company effectively, task management is one of the keys to success. For many years, however, small business owners have had to deal with the added expense of hiring an IT expert to upgrade and maintain licensed software across their computer networks, which is why they are always looking for ways to cut this cost.
Fortunately, business software is much more affordable now that cloud-based applications give users a number of powerful tools that can be synced with desktops and mobile computing devices. Best of all, most apps can be scaled according to a company's demand, which means that owners no longer have to worry about paying thousands of dollars for software features they don't need.
Here are some cool task management programs for small companies by computing and business news sources for their rich features, affordability and ease of use:
1. bizodo (Firefox, Chrome, Safari)
This web-based app enables companies to build and share online forms with ease, which is important for keeping track of group projects. Moreover, the program comes with encryption software to protect sensitive data, along with a cloud-based storage system to reduce hard drive space. Bizodo also offers three subscription tiers for companies that need more resources.
2. Do (iPhone)
Business owners are probably surprised that there is an app that enables them to manage team projects through their iPhones, but Do is designed for this purpose. Through its simple interface, users can create a task, assign it to another person, and can even add comments. Do also offers a website that allows users to manage tasks from their desktops.
3. Producteev (iPhone, Android, Mac, Windows)
Another web-based task management app, Producteev can retrieve data from E-mail, Google Calendar, and Instant Messaging programs to help users keep track of deadlines and other important notices. They also offer multiple pricing tiers for additional storage. Best of all, Producteev provides custom scenarios to help users decide how to make the most out of its features.
4. Chandler (Firefox, IE, Safari)
For business owners who want more control, Chandler enables them to manage complex tasks while still remaining simple enough for new users. This open-source application can import data from a number of other programs such as Google Calendar, and it also features E-mail collaboration, note-taking and file sharing. In fact, there is very little that it cannot do when it comes to keeping track of things.
5. Gmail (Chrome, Firefox, IE, Safari, iPhone, Android)
Gmail has for years been a popular web-based e-mail host, but few people realize that it can also manage their daily tasks. The task box appears at the bottom right corner of the browser to enable users to create lists or generate tasks directly from their e-mail. Although business owners might need a more robust app to manage larger projects, the fact that most users already have this program makes it great for everyday organizing.
—
Since all these task management programs are free, even those who have recently obtained their business degree and are busy starting up a new company will have no trouble obtaining them, and since cutting costs is vital to staying afloat as a growing business, these apps are the way to go when it comes to budgeting for software.
What other programs do you use for task management? Share with us!
Photo by Pong.
Popular search terms for this article:
Powered by Article Dashboard term care, Powered by Article Dashboard small business management software, small business task management software, Powered by Article Dashboard employee performance evaluation, Powered by Article Dashboard office space, Powered by Article Dashboard importance of family, Powered by Article Dashboard program management, Powered by Article Dashboard small business management, Powered by Article Dashboard how can i get money to start my own business, Powered by Article Dashboard free examples of employee evaluations