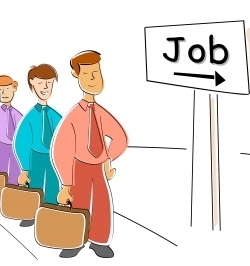 With so much competition in the job market, how do you think outside the box and have a solid plan in place on how to get noticed? If you didn't realize yet, it's going to take a bit of innovation to set yourself apart. There are so many traditional ways of trying to get a job, but with recruiters receiving on average 75 resumes per job opening, how can you be the one that they choose to contact? Be creative! Do something well. . . awesome!
There are many unique ways to get employers to notice you. But getting noticed is just one piece of the puzzle. You need to keep their attention in order to potentially be handed that coveted job offer. Some ways to get their attention won't change – like having an awesome resume – however, let's look at three creative resume ideas you could try in addition:
1. Infographic resume.
Infographic images have a visual appeal that traditional text only resumes do not have. They quickly grab an employer's attention through color and design. For a hiring manager who is looking through resumes, it would likely pop off the page in a sea of words. An infographic is simply a graphic visual representation of information and your skills. So when you consider a resume as an advertisement, it makes sense that a resume could also be an infographic. Using the graphical respresentation, you can show your credentials and creative skills in a fun way!
2. Industry-related resume format.
Much like the infographic resume, you can show this visually, or built into the aesthetics of the wording. For instance, perhaps you are trying to get a writing position and you write your entire resume as if it is a blog. Think about what is unique about your field, is there a font or template that might stand out? If you need some inspiration have a stab at an idea map resume! While what worked for one person, might not be what works best for you, think about your field and your resume and how you can align them.
3. Video resume.
What better way to get through the non-verbal communication barrier that a piece of paper relies on. Making a video resume allows you to be in front of a possible employer earlier in the hiring process, and gives them the ability to assess whether or not your personality may be a good fit for their company.
There are many ways you can be unique when creating a video resume, and all you need is a computer with a webcam, no high tech recording equipment! You should keep your video to a minute and try to have lighting and surroundings that will be most advantageous.
These are some great tools to use to give yourself an edge in getting noticed so that you will get that first call for an interview. Be sure to get noticed, then keep their attention by standing out in your interview.
How do you think outside the box when it comes to jobs? How will you utilize your creativity to land that next job?
Photo by digitalart.
Popular search terms for this article:
Powered by Article Dashboard free employment application template, Powered by Article Dashboard general resume, Powered by Article Dashboard attention, Powered by Article Dashboard job, Powered by Article Dashboard general manager, Powered by Article Dashboard find a job in, Powered by Article Dashboard top employers, jobs outside the box, Powered by Article Dashboard employment application templates, how to think outside the box