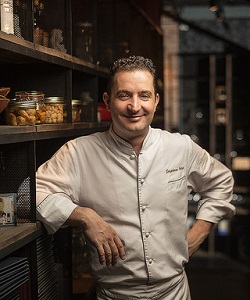 Running a successful restaurant involves a lot more than putting good food on a plate.
While the failure rate of new restaurants isn't quite as bad as the popularly quoted 9 out of 10, the rate still hovers around a formidable 60% according to Bloomberg Businessweek.
We've all seen the flurry of television shows revolving around restaurant culture, everything from Restaurant Impossible and Restaurant Stakeout to Restaurant Takeover.
If you're running a restaurant without the help of a professional TV crew, you might have to take matters into your own hands. Thankfully, marketing your restaurant is easier than you might think.
Here are five easy ways to promote your restaurant, from merchandizing with custom design sweatshirts to generating interest with regular promotions:
1. Create a Strong Logo
The first thing you should work on is to create a strong brand image that you want people to associate with your restaurant.
By crafting a positive and consistent brand image for your restaurant, people will begin to recognize the name, the logo, the image, and feel familiar with it, helping to build your brand identity.
Unless you have a background in graphic design, you'll probably need to outsource the logo design, but there are plenty of online services which can deliver that for you.
Once you find the design that you like, you can start using it on everything from your sign, to your menus, to your social media presence.
2. Build Your Social Media Presence
Speaking of social media, that's going to play an important role in the marketing of your restaurant. Any contemporary business is shooting itself in the foot if it isn't fully taking advantage of the wealth of free web tools available to build brand image.
A successful social media presence should take a three pronged approach including regular maintenance of accounts on Twitter, Facebook and Instagram. The trifecta of social media at the moment, these three tools can be a huge boon to your business and directing more customers to your restaurant.
Take the time to set up these pages with updated information like phone numbers, links to your office website, address info and some attractive photos of the food and dining space.
If someone on your staff is already an avid social media user, they'll be a perfect fit for running the accounts — a simple task that pays big returns.
Post an Instagram every few days of new menu items, post engaging and relevant content to your Facebook page and tweet back to customers that mention your restaurant. You'll have a respectable social media following in no time.
3. Merchandize
So, you've already gotten your logo in check. One of the ways you can promote your restaurant offline is to begin merchandizing.
Creating personalized brand apparel to sell in your restaurant is easy. Head to an affordable site like RushOrderTees to order custom design tshirts with your logo.
In addition to collecting profits on your merchandise sales, more potential customers will be seeing your brand out in the world, building their familiarity with the restaurant and increasing the likelihood that they'll give it a try.
 4. Generate Interest With Promotions
One of the best ways to build customer loyalty is to run promotions that encourage repeat visits to the restaurant. Consider offering simple deals like a free appetizer or free cocktail when customers check in on social media.
Mention the deal on your website, and it'll incentivize potential patrons to visit the restaurant. When they check-in, you benefit from the additional social recognition, and everybody wins.
To encourage social media followers, offer periodic deals through your profiles to keep users subscribed and checking back for updates. An engaged audience is a loyal audience, and that makes a difference over time.
 5. Encourage Yelp Reviews
Customers like to know what to expect before heading to a restaurant, and Yelp is often the first place they're going to look. Maintaining a strong Yelp profile is immensely important to the success of a restaurant now.
Unless you're located in a pedestrian-heavy area, most of your potential customers are vetting their dinner options on Yelp now. Hire a professional photographer to capture your restaurant in the most flattering possible way, and use the photos on your account.
Encourage visitors to check in and rate their experiences to build a strong profile. You'll be amazed at the number of people that start coming in after reading a few positive Yelp reviews.
—
So there you have it — the five simple ways to start promoting your restaurant more effectively. Get started today!
(Photo by Aleksandr Slyadnev / CC BY)
Popular search terms for this article: