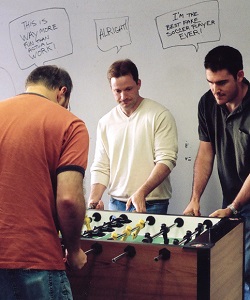 In today's workplace building a positive relationship with coworkers is extremely important.
Most employees spend at least 40 hours per week together, and the ability to communicate well and collaborate is key.
There are often times an array of personalities in the workplace, and it is important to be able to communicate effectively and get along well with everyone.
My business has allowed me to work with a variety of personality types and build relationships with our employees and clients.
Different Personalities at Work
While there are multiple personality and temperament tests, the Four Temperaments Test is one of the most popular for determining temperaments and the characteristics of those in each category.
The categories in this test are defined as sanguines, cholerics, melancholics and phlegmatics.
Sanguines are characterized as friendly extroverts who tend to gravitate toward large groups of people.
Cholerics are often thought of as the alpha individuals and always try to maintain control of a situation.
Those with a melancholic personality are usually characterized as introverts and tend to be sensitive.
Phlegmatics are peaceful individuals who like to please others.
Regardless of your personality type, it is important to learn how to build positive relationships with others in your office. Here are six tips to build positive relationships with coworkers:
1. Remember to Listen
Listening applies to everyone. In the workplace, we often get busy with phone calls, emails and conversations about clients and business deals. It is important to take a moment to listen to what your coworkers have to say about a project or situation.
In addition to this, listening to the opinions of others may provide an alternative outlook that was not previously considered. Have you run out of ideas for a particular project? Perhaps your coworker will have a new creative spin that will be beneficial.
Listening provides an opportunity to step back and evaluate another way to look at the situation.
2. Be Polite
Being polite cannot be stressed enough. Always treat coworkers with respect and be kind to them.
Chances are they will want to collaborate with you on a project and will be much more willing to help if you have an issue when they feel good about the way they are treated.
In addition to this, being polite with coworkers prevents any barriers or uncomfortable feelings when working together or asking for assistance.
3. Offer to Help
Relationships tend to work better when there is a give and take. If a coworker offers to assist with a project or steps in when a deadline is approaching, offer to help them with something in return.
This can mean assisting with another project or offering to teach them a new skill. Many workplaces put a heavy emphasis on collaboration and team projects, so the ability to help other individuals on your team and step in when needed is extremely important.
Giving back will also make your coworkers respect your knowledge and what you bring to the team.
4. Use Face-to-Face Communication
Depending on the situation, face-to-face communication is sometimes the best way to connect with others. If there is a problem or you are discussing something with a coworker over email, consider getting up and talking to the individual.
Electronic communication tends to lack body language and tone, and face-to-face communication helps to replenish this. You may be surprised about how talking with a coworker in person brings you closer together and solves situations that may have seemed like an issue relatively quickly.
5. Give Praise
If someone does great work, compliment his or her achievement! This helps to reinforce a positive company culture and makes them feel appreciated.
In addition to this, it shows that you care about others' achievements and not only the achievements of yourself. The more coworkers build one another up and work together, the more likely everyone is to get along.
6. Get to Know Coworkers
Due to the number of hours that we spend at our job, getting to know coworkers has become a given. Take the chance to learn more about your coworkers by offering to take an afternoon walk together or grabbing a quick bite of lunch with them.
Socializing outside of the office will help to strengthen your relationship and provides an opportunity for you to get to know one another on a deeper level as well. Learn more about their hobbies and interests, and this will serve as a common ground for conversation and build the foundation for a solid relationship.
—
Working together in harmony is an important aspect of the job, especially as more employers are putting an emphasis on interpersonal skills and the ability to get along well with others.
Since we spend so much time with our coworkers building a positive relationship with them is a must for success in the workplace. By following these tips, everyone will feel appreciated and respected.