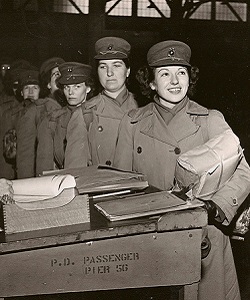 We all know that volunteering is great for the community and for the organization that you volunteer with, but did you realize that some of the benefits of volunteering are also good for your individual growth and may even lead to a new career?
What many others have found is that volunteering is a great way to meet new people, learn new skills, and maybe even get a new job. Here are five ways that volunteering is good for your career.
1. Make New Contacts and Networks
Volunteering gives you an opportunity to increase your visibility in the community. You will find that there are many others involved in community volunteer work, and some of them belong to organizations like the Rotary or Lions club. You can use your volunteer time to make connections with the leaders in these organizations, who are also likely senior people in local companies and businesses.
Through these people and others you will meet in your volunteer activities you can build and grow your contact list. As people in the community and other businesses get to know you it will be much easier to look for, and perhaps even be considered for, positions in these other companies.
2. Gain New Skills and Experience
Volunteering can also help your skills and leadership development by giving you exposure to a range of activities that you would never ordinarily have in your day-to-day job. Things like fundraising, for example.
You get to practice these skills in a low stress, low risk environment, and learn from others the best ways to carry out these activities. You can improve your leadership skills by volunteering to serve on a local organization's board of directors or by chairing one of the various committees of their board.
3. Find Out About New Opportunities, and Yourself
No one volunteers to specifically find a new job, but you can learn a lot about other jobs and organizations and industries through your volunteer networking. You can also add your volunteer experience to your resume to assist you when you do start looking for a new job or career.
Volunteering can also help you become a more balanced individual, and that can only assist you in performing at a higher level in your current job. There is a great personal satisfaction in volunteering your time, and it will likely make you happier and give you more confidence.
You volunteer experience will help you discover what you really like to do and just might lead you to a completely different career path
4. Find New Ways to Work in a Team
Almost every volunteer opportunity will ask you to work cooperatively with others in some form of team. You may already have some experience working in a team at your regular job, but your volunteer team is unlikely to have the established structure, leadership or even ground rules as the one at your day job.
This means you will have to learn very quickly how to get along with and work with others in a common goal, and to find a way to do that without getting angry, mean or upset. After all, you are all just volunteers, right?
You will not only improve your interpersonal and communication skills, but you will also learn valuable team building and team management skills that you can take back to your everyday work.
5. Open New Worlds to Explore
There are plenty of volunteer experiences that you can choose which may completely change the way you see the world. People who have volunteered to work in disaster relief or humanitarian missions, for example, often come back with both their beliefs and their career paths shaken. They find they don't only want to be part of the working or business world any more, they want to be part of changing the world.
Even in your own hometown there might be volunteer work with homeless shelters or children's hospitals that can have the same effect. And after an experience like that, you just might decide to change careers and find an area of work or an organization that more closely reflects the person you want to be in the world.
—
Do you actively or occasionally give of your time? What benefits of volunteering have you seen?
(Photo Credit: England)