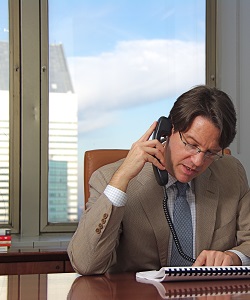 In his book The Corner Office and his popular New York Times Sunday Business column of the same name, Adam Bryant interviewed more than 70 CEOs from major international corporations to find out their secret to success.
What he found was that they shared a number of key qualities that propelled them to leadership roles and their seat in the corner office.
Those five qualities are passion and curiosity, battled-hardened confidence, team smarts, a simple mindset, and fearlessness.
1. Passion and Curiosity
Bryant calls this a deep sense of engagement with the world, and the leaders he spoke with all had a questioning mind and were acutely interested in people, ideas and things.
It is much more than curiosity — it is a desire to figure out how things work and how they can be made better.
It is also the combination of curiosity and passion because on their own they won't bring that synergy that's needed for great leadership.
2. Confidence
The confidence that he heard from CEOs is about developing a track record of overcoming adversity so that you know what you're capable of.
This is important. At certain points in our lives we find ourselves put on the hot seat in stressful situations, and we need to know that we can handle it.
Out of those experiences comes the confidence that they would know what to do in all sorts of business situations — this confidence carries them through.
3. Team Smarts
Team smarts refers to more than being able to be a good manager or coach, although that is important too. It's another level down where a leader knows the inner dynamics of a team and how to get the best out of everyone.
The smartest and most successful CEOs know and can easily recognize the soft levers of power and how to tap into them to ensure success.
The best can not only make the official org chart work for them but the informal leadership be part of their team as well.
4. Simplicity
Simplicity is not simple-mindedness but the capacity to take complex ideas or problems and distill them down to one of two key points that everyone can understand.
As human beings we can only process a couple of ideas at a time, so we need leaders who can help us take the twelve organizational priorities down to a few simple and easy-to-follow directions.
This helps build teamwork and cohesiveness in the organization and allows all employees to focus on what is really important.
5. Fearlessness
This doesn't mean making decisions without proper care and concern, but it does mean a bias towards action. It is a willingness to take risks and to sometimes see that things need to be completely overhauled in order to be successful in the future.
In today's fast-paced business environment you just can't afford to wait too long if a product or service isn't taking off. You may need to kill the organization's pet project in order to save the rest of the enterprise.
Even when things are working well, the fearless leader is not afraid to blow it up in order to make it bigger or better.
—
Do you have what it takes to get to the corner office? If you want to be a successful CEO, you might want to think about developing some of these key qualities the CEO's that Adam Bryant interviewed have. That's why they're sitting in the corner office.