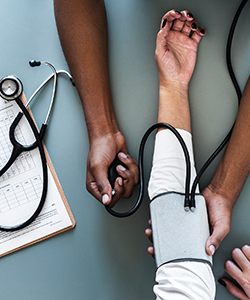 Are you getting ready to embark on a college career? Or maybe you feel you're at a dead-end job and you need something better? There is no doubt the healthcare field is something that is trending when it comes to some of the hottest jobs out there. Most offer great advancements for those who showcase the right talent.
If you don't feel like you're cut out to be a nurse, doctor or physician's assistant, you don't have to spend years and thousands of dollars on your education to gain a great entry-level career in healthcare. Here are just a few careers that don't necessarily require a degree and courses that can be completed in a rather short amount of time:
Medical Assistant
Do you have an interest in working directly with patients in a clinical setting, but don't want to be a nurse? Being a medical assistant is a great way to get your foot in the door in a doctor's office without having to have years of professional training. Most medical assistant programs are certificates and can be completed in less than 24 months. Many trade schools and community colleges offer medical assistant programs. You'll learn some of the basic fundamentals of working in a medical office, including how to:
Take patient vital signs
Prep patients for an examination by the doctor
Assist the doctor with a medical procedure
Carry out an ECG, and learning the fundamentals of how to read an electrocardiogram
Perform some diagnostic testing
Remove sutures and change dressings
Give injections of certain medications
Sterilize medical equipment
There are many roles that the MA plays in the clinical setting. You can find a job in a medical office, hospital or clinic, but keep in mind that at each facility, your job role may be slightly different. Medical assistants are also trained to work in the front office as well—answering phone calls, filing patient charts away properly and addressing patient related issues as they arise in the clinical setting.
Certified Nursing Assistant or Aid
Another clinical position in the medical field that does not involve a college degree is a certified nursing assistant or CNA. Typically this is a certificate program that is offered at a community college or tech center. You are taught all of the fundamentals of taking care of patients who need nursing assistant care. Similar to a medical assistant, you will also be trained to identify medical conditions, how to care for patients who may be unable to care for themselves.  One of the fundamentals is being able to address a patient's ADLs or activities for daily living, such as bathing, dressing and taking care of their basic needs. After you achieve your certificate, you'll need to become state certified. From there, you can work in a nursing home, hospital setting or directly at the patient's home.
Phlebotomist
If you enjoy the direct contact with patients and want to work in a clinical setting, drawing blood may be a career for you. A phlebotomist is trained through a local community college or private technical center. You'll learn the basic fundamentals of blood, blood drawing and understanding how venipuncture works. Finger and heel pricks may also be part of the training. The main goal of a phlebotomist is to successfully collect the blood and send it off the lab for diagnostic results and prepare the patient for transfusions, donations or research purposes.
Ultrasound Technician
Becoming an ultrasound technician is a rewarding career if you want to venture into the medical field. Courses range from just a few months at a technical center to achieve a certificate in the field. Here you will learn all of the basic fundamentals and familiarities with the machine and how to prep the patient. It's basic and good if you are wishing to get in on the ground floor of this career. Ultrasound technology advances all the way to getting an associates or bachelors degree in the field. You'll train to learn more advancements in the field and to be able to work more independently on a variety of machines in different clinical specialty settings.
If you're looking to get into the clinical medical field, there are many opportunities to do so. You can mix and match your skill set, so your resume will be more attractive to potential employers.