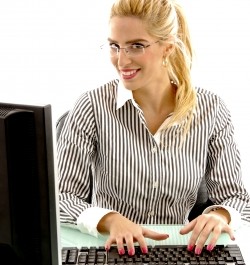 Along with your undergraduate transcript, your recommendations and your resume, the personal statement that you submit when you apply to organizational leadership masters degree courses or other programs presents a complete picture of you, your experience and your potential for success in grad school.
While on the surface the personal statement might seem like an easy question — in most cases you'll be asked to explain why you want to pursue that degree and what you hope to accomplish after graduation — how you craft your answer and make your case for admission can make a difference in whether you gain admission or not.
Start at the Beginning
When you're writing a personal statement, start by mulling over the questions on the applications. It might be useful to write down your answers; i.e. "I'm seeking my degree in leadership because …" or "Once I earn my degree in business, I want to …" Since you will revise your statement — most likely multiple times — it's okay for your first draft to start with an answer to the questions.
Since most personal statements have a word limit, though, in your final draft, don't waste space repeating the question. Instead, use your words to construct an authentic and interesting snapshot of who you are and what you can bring to the program. Be detailed and specific, providing insight where necessary for clarity, but don't use too much detail or over-explain. Again, consider the personal statement to be a snapshot of who you are, not a complete portrait of your life.
In fact, the personal statement needs to focus entirely on you. You may be asked to discuss someone who inspired you and why, but keep the focus on you. Your father might be fascinating and inspiring, but he is not the applicant. Stay focused on you, and how he influenced your success, and show who you are.
Show Your Personality — But Avoid Gimmicks
Some admissions committee representatives report that they almost immediately dismiss any statement that begins with a quotation from another person. Admissions committees want to read your words, not Abraham Lincoln's. They also don't want gimmicks, especially in competitive or serious professions, such as law.
An interview with your 100-year-old self, for example, might be a legitimate approach to an application essay for a creative writing program, but quirky and clever essays rarely get a positive response in other fields — unless, of course, the statement directions you to interview your 100-year-old self.
That doesn't mean that your essay needs to be dull, though. A dull essay is almost as bad as one that veers too far into creative writing territory. The admissions team is probably not going to be impressed by jargon, for example, or the fact that you can use legalese as well as any contract writer. Avoid complicated sentences and unclear phrasing in favor of clear, concise and powerful language. Also, write in an active voice.
Request Help
Once you've drafted your personal statement, ask at least one (but preferably several) other people look it over and provide feedback. Ask them whether the essay communicates who you are and your abilities — if it not, where does it veer off track? Once you've revised your essay and have the language perfected, proofread your work. You don't want a typo to affect your chances of getting into graduate school.
Because the personal statement is so important, and you want to make sure that it is as compelling, complete and well-written, it's not something that you want to procrastinate on. Keep in mind that if you are applying to multiple programs, you may need to write multiple statements. Even if you can use the same statement for more than one program, though, tailor the essay to each particular school and remove any references to other schools, as that's probably not going to make a positive impression.
Writing an effective personal statement is challenging, but when you do it, you'll reap the rewards of admission to your first-choice program. It might take as many as five revisions to get the statement right, but the work is worth it.
What other tips have you got to write a personal statement effectively? Share with us below!
Image by FreeDigitalPhotos.net.
Popular search terms for this article:
Powered by Article Dashboard email find people, Powered by Article Dashboard psychology grad school, Powered by Article Dashboard graduate school essays