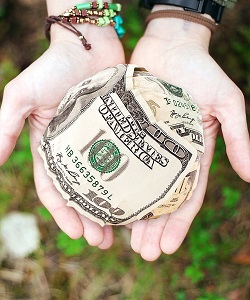 Being self-employed brings with it a host of exciting perks.
Like the freedom to manage your workload your way.
Or take on a diverse range of projects based purely on what takes your fancy.
Unfortunately, though, the perks of contracting can come at a price.
Contracting is, by nature, much less predictable than permanent employment, and making a profit isn't as simple as doing your work on time.
So the question is: How can you level up your contractor's income and make your company more profitable than ever?
We have a few ideas to help you maximise your take home pay, starting today.
There's an App for That
The App Store is every contractor's lifeline, offering a multitude of innovative apps designed to make contract work more efficient, rewarding and lucrative.
From streamlining your processes to tracking your time spent, all aspects of your career in contracting can be reduced to the lowest common denominator with just one trip to this haven of handy mobile applications.
Apps for your contractor toolkit:
Evernote: Take your efficiency up a notch with Evernote, the ultimate workspace. Scrapbook ideas, collect thoughts and collaborate in real-time using this life-saving mobile app.
Dropbox: Share content more quickly and easily than ever using Dropbox — streamline briefs, submissions and collaborations in one fell swoop.
Toggl: Never waste a minute again with the help of the ultimate time-tracking tool. Every second is billable, and Toggl makes measuring your time spends a piece of cake.
CamCard: Take the hassle out of gathering and organizing leads thanks to this nifty app, which allows you to scan business cards instantaneously for quick, uncomplicated contact collection.
Knowledge is Power
As a contractor, the most powerful weapon in your arsenal is your unique skill set, and using this to your advantage can have great financial benefits in the long term.
Many clients will seek out your services to reduce the pressure on permanent employees, while others will be looking to benefit from your expert insight, and this is where running your own specialist training courses can mean a win-win situation for all involved.
In some cases, a client will need to pay tens of thousands of dollars so that a small number of their employees can be trained on a given topic, meaning you're in an advantaged position when it comes to putting a price on your expert training.
These courses give contractors a chance to strengthen working relationships, develop their clients' teams and make a tidy profit from their sector-specific knowledge.
Relationships Build Reputations
The key to making your work as profitable as possible is to ensure that each client relationship is lucrative in the long term.
Building a reputation for quality work, dependability and an accommodating approach helps contractors to broaden their client base, make more from each job and maximise their workload.
This means increased profits as a result of strong client connections.
Top tips for rewarding client relationships:
Go direct rather than via an agency. This gives you an opportunity not only to potentially earn more for your time (having cut out the middle man), but also to secure ongoing work as a result of this direct and informal contact.
Respect work deadlines in the same way clients should respect your invoices. Etiquette is crucial in contracting, and reciprocating respect will tell your clients you're reliable and well worth the fee.
Pursue other projects. If you have a good existing relationship with a client, make it known to them that you're available for a number and variety of projects, should they require your expertise in future. That way, you can increase your workload and make each client relationship more profitable.
Time is Money
A timely approach to all aspects of your work is key to profitable contracting. Guaranteeing that clients are billed for every minute you give them means you won't miss out on the financial rewards of your hard work.
Whether you utilize one of the many dedicated time-tracking apps or take matters into your own hands, being strict with yourself will help you to take home everything you're owed.
The flexible and impermanent nature of contract work makes a proactive approach to invoicing more important than ever, so chase clients on time to reap the benefits.
Thanks to nifty email extensions like Boomerang for Gmail, you can schedule your most important emails to be delivered when the time is right, meaning you aren't at the mercy of office hours.
Outsource Your Accounting
On top of time-tracking, client contact and unpredictable workloads, accounting can often be the straw that breaks the contractor's back, so why not outsource the aggravation?
Contractor accountants are dedicated to making the contract workforce's accounting worries a thing of the past, taking the hassle out of many crucial responsibilities, such as:
Tax registration and returns
Year-end accounts
Self-assessment tax returns
Tax liability calculations
With the support of a dedicated adviser, a specialist accountancy service gives contractors the peace of mind that their finances are in the hands of professionals.
Some contractor accountants offer customers access to exclusive cloud-based portals, so account tracking can be simpler and more satisfying.
By investing in your client relationships and making a commitment to efficient operations and knowledge sharing, you can propel your profits and make contracting the rewarding experience it has the potential to be.
(Photo by Heather Paque / CC BY)