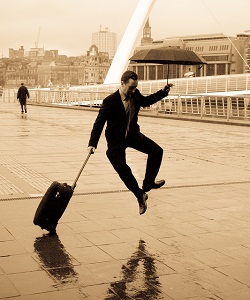 I am finding that in my role I am traveling more and more on a monthly basis. I am becoming increasingly aware of these costs for the company I work for.
Businesses everywhere must find new and different ways to slash costs if they want to survive in today's economic climate.
Gone are the days of reckless business travel for huge numbers of executives at the drop of a hat!
Well, for most of us anyway. But it's vital not to lose out on business travel when it is necessary.
It can be the difference between making a certain sale or retaining business. In the days of video conferencing, Skype and instant messaging, it's still important to remember that the personal touch can mean the difference between a good business and a great business.
Servicing clients face-to-face, meeting with them at their convenience and showing that the business cares by taking the time to travel to their area is an invaluable way to aid client retention.
There are few clients in any sector who enjoy feeling neglected by their service provider. And don't forget that to some extent, it's always a buyer's market.
Personal Touch Goes A Long Way
No matter the sector of business you're in, communication is key. And face-to-face works best.
Building key relationships, taking the time to get to know the people behind the job titles, attending conferences where it's essential your business has a presence, networking and socializing with colleagues, clients and competitors — all of these are vital to keep the cogs of a business turning.
So if it's not an option to cancel all business travel, what are the best ways to make sure the expenditure is worthwhile and doesn't spiral out of control?
Planning is Key
A careful analysis of all of the business travel that's currently lined up for the next 12 months would be a good start.
Look at all the events, conferences, exhibitions and festivals staff routinely attend, and work out which of these offers a cast-iron ROI.
Yep, it all comes down the ROI. There is very little room these days for people jetting around the world on business trips that turn into mini-holidays, complete with partners and friends.
This may have been more common during the boom years in many industries, but for many the time has come to clamp down.
When you've identified the business travel that absolutely must happen and the key employees who will bring the company the biggest return on investment, you're on your way to creating a solid business travel plan that will work hard for your business.
Do Your Homework
The second step is to research accommodation, ticket prices and flights. There are many companies that will be happy to take the organization off your hands, and these can be worth looking into as they can spend time researching the best deals.
However, if you work for a small or medium sized business, then the chances are it would be cheaper to research, book and organize in-house.
Crystal Clear Reimbursement Policies
It's important to review and refine the employee expenses policy so that all staff who travel for business are clear on what they can and can't be reimbursed for.
It's vital to remember all of the incidental expenses that they may need and whether these should be covered by the company or not.
Consider taxi fares, tube and train journeys, travel during a conference (i.e. from the hotel to the conference site), and how much should be put aside for networking and entertaining.
Another thing to consider is whether employees should be recompensed for being away from home (this would depend on many factors, including their role, contract, length of time they typically spend traveling) and communications.
Streamline Communications
One of the aspects of business travel that is often neglected or forgotten when trips and conference bookings are organized is the amount it can cost employees and the company to communicate with each other.
Most employees who are travelling on business are expected to keep in constant touch with their head office or base back home, either by email, Skype, some other VOIP, phone or text, or a combination of all of these. The cost of this communication can rocket, if not kept carefully in check.
Data roaming charges can be particularly problematic if employees are travelling abroad and need to be able to upload information, stream communications and communicate with clients and colleagues both in their party and back in the office.
Local SIM Cards
There is a solution to these problems that can prove extremely cost effective, not to mention practical for many reasons. Local prepaid SIM cards from can revolutionize the way employees communicate while away on business.
Benefits include a local phone number (something that can go a long way to making communication in a new country easier to manage) and local rates for calls, texts and data.
An excellent resource for businesses is ritesim. It stocks SIMs for more than 60 countries and can help you find the right packages to help you trim costs and still communicate with clients and the office.
The prepaid SIM cards also offer free incoming calls and texts and much cheaper outward international calling. For people who need to be in constant touch with colleagues and clients while away, it can work really well.
Traveling can be a worthwhile investment for many companies. Taking some time to research as well as cement your reimbursement policy will go a long way to curb unnecessary expenditures.
And streamlining your communication can help as well. After all, business doesn't stop just because you're out of the country or having to travel!
(Photo Credit: Tom Ellefesen)