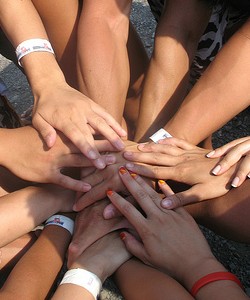 Most of us fit into one of two productivity camps—team players and independent workers or "self-starters". Some of us thrive on the camaraderie and brainstorming that occurs when a high-functioning workplace team gets together to work on a project, while others prefer the solitude and focus that working solo provides. Most people prefer one or the other, but managers like to see employees who can deliver the same results in either arrangement.
Both have their advantages and disadvantages. Your personality type has a huge influence on your preference. If you're an extroverted people person, naturally you would prefer to work with others instead of solo. On the other hand, thoughtful, more introspective types commonly choose to work alone when possible.

Working in a team is best suited to projects requiring:
Problem solving
Innovation and creativity for new product/process development
A heavy time commitment
Working solo is best if the project is:
Detailed
Technically intricate
Numbers-based
Short-term
Working with a Team: Pros
"Two (or more) heads are better than one." If you've been assigned a complex, time-consuming project, or are responsible for coming up with a brand-new solution to a problem or concept for your company or client, you're bound to benefit from a team brainstorming session. Whether formal, when you and your teammates basically lock yourselves in a conference room or offsite location for a couple of hours, or informal, such as bouncing ideas back and forth over a casual business lunch or staff meeting, you would be amazed at the ideas and suggestions your associates will come up with. Some might work, most won't, but gathering everyone's feedback can bring new energy to the project. Even better, you don't have to feel solely responsible for the project's success—everyone has a stake.
Healthy competition. It's natural to want to outdo your co-workers in some way over the course of your project. Maybe your goal is to be the first one on the team to complete your research, or to wrap up the sales calls you all must make before the new product launch. A little healthy competition can help to keep everyone on their toes.
Accountability for all team members. Effective work teams are best when all of the team members create a system of checks and balances to make sure everyone is doing their share of the work. Depending on the duration of the project (or team), you may have regular check-ins where all teammates have to provide a progress report. Who wants to be the only one without their tasks completed? As part of a team, others are relying on you—someone else may not be able to do what they're supposed to do if your part isn't finished.
Working with a Team: Cons
Too many/not enough leaders. Ideally, every teammate uses their strengths to move the group forward and gets past their weaknesses. One of the most difficult parts of working with a team is establishing a leader. It's not unusual to have more than one strong personality who wants to take charge, which can pose its own challenges. On the other hand, you could be working with a group of indifferent folks and no one wants to take the lead. This usually occurs when there's no clear guidance or direction, no clear end result, or there are folks on the team who may not need to be part of it, so they don't understand what they are supposed to accomplish.
Personality clashes. One of the biggest challenges of being part of a team is adapting to members' work styles. It's always delicate to watch the hard-charging, Type A-personas work with the more laid-back, 11th hour folks.
Carrying low-performing team members. In a perfect world, all duties and responsibilities of the team are divided evenly based on each member's strengths. If one teammate is not carrying their weight and slacking on their duties, the rest of the team will need to pick up their slack, causing tension and hard feelings among the entire group.
Keeping track of project status can be cumbersome. If all teammates work in the same proximity, tracking everyone's progress is much easier—regular team meetings should be enough to keep everyone on task. But if you're paired up with associates in different locations, scheduling meetings can be a headache, at the very least. In these cases, email and conference calls are the best solutions for touching base with everyone.
Working Solo: Pros
Tracking progress is much easier. If you're the only one working on a project, you know how much work has been done and how much more remains. You don't need to check in with other associates (unless they are contributing to the project in some way) or make sure everyone is on task as much as you would as part of a team.
You can work at your own pace. If you want to get your other work done first, you can—you don't have to coordinate schedules with other associates in order to collaborate on the project.
No personality clashes or personal agendas. You don't have to worry about strong personalities or those folks who have been known to pull all-nighters to get a big project done. You can focus on the work at hand and not be distracted by others' input or interpersonal conflicts.
Working Solo: Cons
Lower accountability. On one hand, you don't have to be accountable to anyone. On the other hand, you don't have to be accountable to anyone. Who's making sure the project is getting done as it should be? You may want to find someone you can check in with to report your progress, whether it's a direct supervisor or other manager. Someone is waiting on the project and it's up to you to deliver.
Juggling multiple projects (special project and regular responsibilities). Depending on the intensity of the project, it can be a challenge to juggle the work required for it and your other day-to-day responsibilities. Perhaps your supervisor thought you could handle the whole project by yourself, and you felt you were up to the challenge so you accepted. As the project progresses, if it becomes too much for you, don't hesitate to speak up. It's better to have a well-designed finished product that several people worked on instead of a shoddy, careless effort that one person tried to fit in between other responsibilities.
Which do you prefer? When is it better to work with others? When is it better to handle a project yourself?
(Image courtesy of clam113 under a Creative Commons Attribution 2.0 generic license.)
Popular search terms for this article:
self starter, SELF-STARTER, what is a self starter, team player, what is a self-starter, how to be a self starter, selfstarter, self starters, what is self starter, not a team player at work