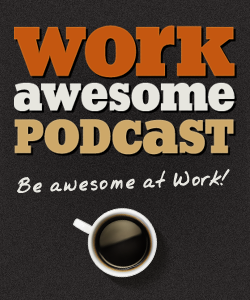 After a two week break, the WorkAwesome podcast returns featuring an interview with Michael Sliwinski, creator of Nozbe and founder of Productive Firm.
Nozbe is a cloud-based tool that Sliwinski designed for his own personal use at first, but released it to the public a few years back and has been growing steadily ever since. It was one of the first well-known productivity web apps, and has since been incorporated into mobile apps for the iPhone and iPad to allow you to keep getting things done even when you're on the move.

Productive Firm is the hub where you can find Productive Magazine and The Productive Show. Productive Magazine has been around for well over a year now, and features articles and interviews with productivity experts from around the world. Those who have been faetured include Leo Babauta, Michael Hyatt, Stever Robbins (The Get-It-Done Guy) and the creator of GTD, David Allen.
WorkAwesome readers — and listeners — can take advantage of an exclusive offer that gives you access to Nozbe at a 10% discount on all yearly plans (Personal, Family, Team and Business). Nozbe has monthly and yearly plans and this coupon code works for the yearly plans. Just enter the special discount code WORKAWESOME to receive the discount when signing up for a yearly plan.
(Nozbe yearly plans are already discounted 25% over the monthly price and this coupon code gives a further 10% discount off of that.)
Enjoy the podcast!

[powerpress url="http://workawesome.podbean.com/mf/web/rn9u62/Episode7_MichaelSliwinski.mp3″]
Subscribe to the podcast
Play in podcast in new window
You can also subscribe to the podcast in iTunes here.
Popular search terms for this article:
nozbe vs omnifocus, nozbe coupon, creating flow with omnifocus discount code, nozbe coupon code