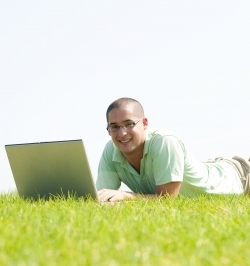 If the only jobs that were left on Earth were Internet jobs based on Internet applications, would you be able to get hired? This a question more and more job applicants are asking themselves. One of the biggest job growth sectors is online, where e-commerce sites, Internet magazines, social networks, online retailers, and SEO agencies are tapping into one of the most important inventions since the printing press.
Increasingly, job applicants are looking online for jobs and searching Internet forums in order to find a career. Hiring managers are using the Internet for their own recruiting purposes. Facebook, Twitter, and LinkedIn are all being utilized for business growth and career development simultaneously. 
As of 2009, the Internet economy had created 1.2 million new jobs over the course of the preceding decade. We can expect that number to double or even triple by the time this decade ends. But what are some of the skills you will need in order to flourish online? Once you get that interview, what will your portfolio tell employers about your ability to adapt in the newest job environment?
Here are 5 skills and tactics you can use to posture yourself for an Internet job:
Content management systems
The ability to be able to navigate a CMS is an extremely valuable skill that many businesses look for in a job applicant. In addition to demonstrating basic web and computer-savviness, a great many companies now fuel their webpages with CMS services like WordPress, Drupal, and Joomla, which can transform ordinary blogs into complex online magazines.
There are a multitude of reasons why CMSs are so revered: Their plugins can assist with social media integration, e-commerce, SEO, and a wide variety of other necessary web applications. Even if you won't be responsible for producing the actual content on a site, knowing how to use a CMS to manage online material and optimize it for the web may land you a job.
In particular, familiarize yourself with the incredible diversity of plugins, extensions, and widgets that can be used to modify blogs and websites.
SEO
Ask any online marketer or Internet entrepreneur what the most important strategies are in order to make a company grow and they will inevitably cite search engine optimization near the top of that list. SEO is a major growth sector on the Internet and an undeniably powerful asset to possess.
This is probably one of the more complex skills on this list, as search engine algorithms are continually changing and SEO tactics are in a near constant state of flux. Even a working familiarity with SEO should earn you some brownie points in most employer's eyes.
And don't even think about applying for a job with an Internet marketing company if you don't have some experience with SEO.
Social media optimization
Social media would at first seem like a fairly trivial skill to list on a resume, but increasingly it's viewed as an important part of brand awareness, reputation management, and even SEO. The rise of social networks as dominant forces in our society underscores the importance of understanding what they can be used for. Facebook and Twitter aren't just for messaging friends and family anymore—they are comprehensive ways for businesses to reach out to consumers, create brands, and generate more traffic.
Newer popular sites like Instagram, Pinterest and location-based sites like Foursquare present even more options for social media-friendly businesses. Knowing your social networks is looking better and better on resumes. Even better is a demonstrable track record of helping clients improve their online presence by creating media-rich social media profiles.
Graphic design
Digital graphic design is always sought after as an online skill. Even if it's just for putting together a newsletter or showing off a logo watermark on a business document, a familiarity with graphic design and online aesthetics will go a long way toward landing you a job in today's job market and preparing you for the job market of tomorrow.
Even a well designed resume can create a lasting impression in an employer's mind. If in addition you can list proficiency in photo editing software like Adobe Photoshop or even video editing software like Final Cut Pro, hiring managers will begin to think of you as tech-savvy. It will also increase the number of jobs you are capable of handling.
Many people go back to school in order to earn degrees in graphic design. Increasingly, web developers are expected to be familiar with web design as well as distributed network applications.
Podcasts
Podcasts are increasingly thought of us as important tools for businesses in order to reach more people and target niche markets. Many major blogs now have corresponding podcasts that help them to widen their sphere of influence. A job applicant with a portfolio of podcast experience is likely to rise higher on the list of candidates an employer looks at for an Internet job.
Fortunately, podcasts are inexpensive to produce and don't require a great amount of gear. Podcasts suggest Internet literacy and technological proficiency and in today's age those are highly regarded characteristics.
The more of these skills you possess the more likely you are to get hired by an online company or a company that is developing an online division. Many companies want Jacks and Jills of all trades—in other words, they want employees who can take on a number of different tasks and switch between them on an ongoing basis.
An Internet company may charge its Social Media Director, for instance, with updating content on WordPress, optimizing it for the web using SEO, and sending out relevant social media posts. This same person may be in charge of creating a podcast for the company and then designing the header for the page on which the podcast is featured.
All in a day's work! Goes to show you the importance of having a variety of online skills and continually honing and refining them.
Photo by photostock.
Popular search terms for this article:
Powered by Article Dashboard online employment application, Powered by Article Dashboard wholesale computers, Powered by Article Dashboard skill, Powered by Article Dashboard united states postal service job listings, Powered by Article Dashboard business card, Powered by Article Dashboard go back to school, Powered by Article Dashboard employment opportunities, Powered by Article Dashboard free social networking, Powered by Article Dashboard application letter, Powered by Article Dashboard state tax