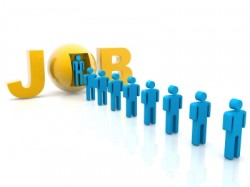 If you are in the process of looking for a job you're probably already using all the traditional approaches: job application forms, CVs and résumés, covering letters and emails. But have you also thought about setting up a personal online profile with a website?
This not only shows potential employers that you understand digital media, it also offers you another opportunity to differentiate yourself from other jobseekers. At a time when the overall economic climate is less favorable this is even more important than ever.
Why have an online profile?
Consider your own website as an online extension of your job application. Here you can include lots more information about your experience, skills and interests, that you wouldn't be able to fit into a standard application form or résumé.
If your dream job involves online media (e.g. marketing, design, project management), having your own online profile can also help convince potential employers of your capabilities in this environment.
But even if online media are not really your thing, or if you're worried about the technical aspects, there are a number of website builders that can help you create a professional-looking website in no time at all, and without the need to know anything about HTML, PHP or JavaScript.
What to include?
Even though I would recommend keeping this kind of website relatively short and succinct, it still allows you to include more detailed information about projects you have been involved in than is possible in your application form and covering letter.
And, of course, unlike your original application letter or email, the online profile also offers opportunities to make use of other media, such as videos or audio clips, and include links to relevant content elsewhere on the Internet.
As an architect, for example, you can include plans and visualizations of buildings you designed, if you're a journalist you can add video or audio files of interviews you conducted, and as a marketer you could include visuals (pictures, banners, links, pdfs) of campaigns you have been involved in. Even university projects or your degree thesis can offer useful and relevant information for potential employers.
You could also record a video message for your future employer and embed it on your site. But make sure you know what you're doing. However easy it may be to create videos using your webcam, they can look a little basic and unprofessional – which is not the impression you want to give here. Check out these tips on how to create a professional looking video résumé.
If you like, you can even include links to your social media profiles or give information about your hobbies and personal interests. This gives a more rounded picture of you as a person and may well work in your favor if your interests are a good match for the kind of company you are hoping to work for.
A few things to bear in mind
Personal content can be password-protected if you prefer, which is easy to set up with most website builders or content management systems (CMS). But make sure your future employer can easily access the information you want them to see. Don't put obstacles in their way – they are busy people!
Most importantly though, do bear in mind that your potential new employer will only check out your online profile if you have managed to arouse sufficient interest in yourself. So, your initial written application (electronic or otherwise) has to be powerful and convincing enough to pique their curiosity.
Here are a few things to be aware of so you don't undermine the value of your online profile:
Your personal website does not replace your covering letter or email and CV!
Offer additional information – don't simply repeat what you've already written in your application documents.
Do make sure your online profile looks professional, especially in terms of design and visuals, but also makes you stand out from the crowd.
If you're using different versions to match different applications, make sure this is not obvious.
Use your own domain name. Domain names are cheap and easy to get, so there's really no need to use a generic URL like firstnamelastname.blogspot.com. It just looks unprofessional.
And be aware that if you place your full résumé on your public online profile the information may end up on Google and will therefore be accessible to anyone in the world.
If you wanted to take things a step further you could even start a blog and develop a name for yourself as an expert in your field.
Photo by jscreationzs.
Popular search terms for this article:
additional information that will help in your job applications