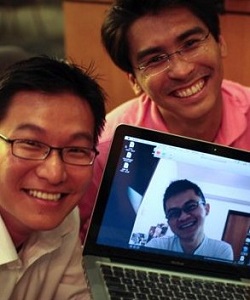 If your business has any remote workers, the ability to communicate with your employees is an integral part of your success.
All of your workers are going to need to be up-to-date on topics discussed during meetings as well as informed of company goals and their responsibilities in achieving them.
Unfortunately, communicating this amount of information to all of your remote workers who may live in different time zones or have different schedules can quickly turn into a chore.
Thankfully, there's an easy solution that is well within the reach of any business owner.
Video conferencing is by far the easiest way to make sure your remote employees have all of the information they need to succeed in your company, as it allows them full access to your company's meetings wherever they are.
They can ask questions, voice their concerns if they have any and participate in discussions as well as they could if they were there. Unfortunately, integrating video conferencing into your office can seem a bit overwhelming.
It's not cheap, and the task itself requires a large amount technical knowledge and finesse the average person just doesn't have. There are a few different services that can assist you in installing and maintaining a video conference network so you can take advantage of everything that this technology has to offer.
Bluejeans 
Bluejeans Network is a video conferencing startup that aims to bridge the gap between several different video conferencing platforms. Through the use of the cloud, they allow businesses to link their pre-existing video conferencing hardware and software to any other video conferencing software on the market.
So if half of your employees prefer Skype while the other half prefer AdobeConnect, now they can all communicate with their favorite platform.
What's great about Bluejeans is that it doesn't require businesses to purchase new (and generally more expensive) hardware and software. Just purchasing a Bluejeans license allows them to use their existing infrastructure.
So while Bluejeans may not be necessary for a business that is just starting to integrate video conferencing software into their offices, it's a great fit for those who want to get more use out of an existing one.
AdobeConnect
Adobe Connect is the video conferencing software of choice for a lot of businesses that need the ability to customize their video conferencing experience. What's great about AdobeConnect is that it scales to the needs of the business.
The service costs $55 per person who has the ability to host but features unlimited video streams. You also have a pretty impressive amount of customization options through an abundance of different plug-ins and templates.
Your employees will also have access to the service through an in-client browser, and iOS, BlackBerry, and Android clients. AdobeConnect is also compatible with PC, Mac, and Linux based desktops.
Unfortunately, AdobeConnect's emphasis on customization is also its downfall, as it makes the service feel a bit clunky. To set up a meeting you have to name the meeting, choose your URL, select a start time and duration for your meeting, choose a template, and assign access rights to your employees.
So while the service is definitely powerful, it requires a lot of trial and error to get it configured to your liking.
Cisco WebEx Meeting Center
Cisco WebEx is the largest video conferencing service on the market today. Having millions of users and more than 15 years of experience in the field, they're definitely a force to be reckoned with in the industry.
The service they provide is definitely functional, and I would even go so far as to say that it's great. The interface feels professional and smooth, the product is affordable ($49/month), and Cisco WebEx made sure that the product is very easy to use. The service also communicates very well with smartphones and different operating systems.
Unfortunately, Cisco WebEx falls short on some of the features you will find in AdobeConnect and doesn't make communication as easy as Bluejeans. However, Cisco WebEx does a better job than its competitors in providing a service that is simple to use for those who aren't very experienced at dealing with this type of software.
In Closing
All of these services will give you the ability to host video conferences fairly well. But to get the best performance possible out of whichever service you choose, you're going to need to think about which will be the best fit for your office.
Do you already have video conferencing software installed but need it to be able to communicate with a wide variety of devices and clients? If so, you might find Bluejeans to be the right choice for you. If you're just starting out and need software that is powerful yet still easy to use, you might find that Cisco WebEx would be the best fit for your office.
Either way, installing video conferencing software will make your office run smoother than you would have ever believed possible.
Popular search terms for this article: