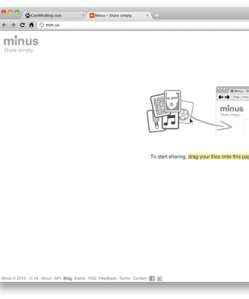 If you've got a huge number of photos to share, there are services like Flickr or Facebook Photos which help you upload, organize and create albums — then share them easily. But what if you want to quickly share a picture or two, and don't want to go through all the steps involved in sharing photos through a full-fledged photo sharing tool? Similarly, what if you want to instantly share a document or video without wasting time? That's where services like Minus come in handy.
Minus (or Min.us) is a super simple online file sharing tool that boasts a clutter-free interface and lets you share photos, music, documents and videos in seconds. Let's check out how to use this service, and what features it offers.
Getting Started
For this review, we'll just focus on sharing photos in order to facilitate a better explanation. All other file types can be shared in a similar manner.
When you visit the site, you will see an image that's self-explanatory. It asks you to simply drag and drop files.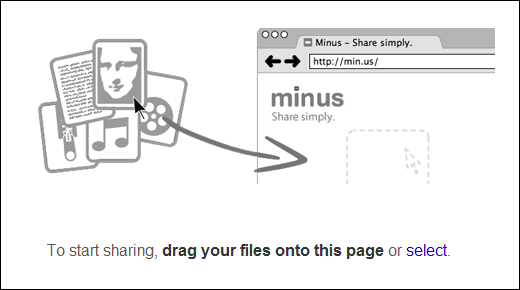 (Note: You can also click on the "select" link to upload files if you want, but most people will drag and drop.) That is all you need to do to get started with uploading files. That's how quick it is. No sign up needed, either.
You can sign up, of course, and signing up does have its benefits (which we'll talk about a bit later), but if you are planning to share just a photo or a small file, it's just a matter of drag and drop to get the process going.
Sharing
In the case of pictures, it automatically creates an album which helps users go through them one after the other in a smooth way. As it uploads a picture, you can just keep dragging and dropping more photos; it'll upload them and add them to the album automatically.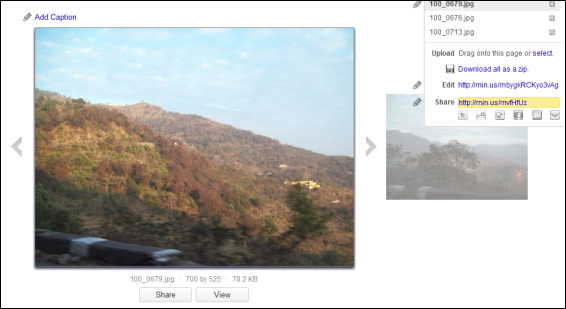 You'll see the upload admin options in a small box on the top left of the page. It will have options to add a title to the album, remove individual uploads, download the entire collection as a zip file, edit the URL of the album and share it via various social channels.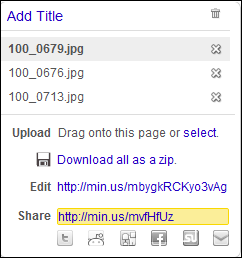 Below each of the individual uploads, you have more sharing options. As you can see in the screenshot below, there's the gallery link, the image link, a forum code (for sharing it on forums) and HTML code to embed it on blogs and websites.

In a nutshell, there's absolutely no dearth of sharing options. You can even quickly email or share via chat the file upload URL that's generated. Take a look at this test album I created (http://min.us/mvfHfUz). You'll notice that even as a visitor, you can share it easily with other people as well. There's also the box on the top left that has an option to download all of them as a zip file. That means this feature isn't just limited to the one who uploads the stuff — it's available to all.
Desktop, Browser and Mobile Apps
Minus's extras page talks about the desktop, browser and mobile apps they have to offer. Here's what's available:
Minus desktop app for Windows, Mac and Linux. It integrates with the taskbar in each of these operating systems. That means you could directly drag and drop files onto the taskbar for quicker uploading and sharing.
Chrome web store app. Extensions for Firefox and other browsers are said to be coming soon.
Android app available. Apps for other mobile operating systems are also said to be coming soon.
Below is a screenshot of how Minus integrates with the taskbar in Ubuntu Linux.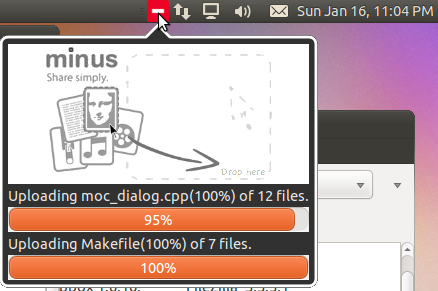 Other Info
Minus is completely free to use at the moment.
Individual file size limit is 10MB.
Uses Amazon EC2 and S3 for hosting the files.
Signing up with them helps you store galleries so that you could come back to them later to edit them.
Files are stored indefinitely until you delete them.
You can upload all file types but gallery viewing is available only for JPEG, GIF, PNG, APNG and BMP (basically, only images).
Conclusion
Overall, if file sharing — be it photos, documents or videos — is something you do often, then I think this is a service you should bookmark and use. It's quick and easy, and could definitely save you loads of time in the long run.
Popular search terms for this article:
minus com review, minus review, min us review, minus file sharing review, minus reviews, minus com, minus com reviews, review minus com, review minus, is minus com safe