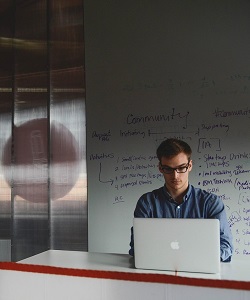 Have you been mulling over the idea you have about starting a business?
You think, "I could really start a company. I see these folks on Shark Tank. I could do that."
You know that your corporate job is slowly crushing you, bit by bit.
But then you read somewhere that nine out of 10 new businesses fail, and it scares the hell out of you.
When you talk with your family and friends, they focus mostly on the risks, reinforcing your concerns.
You're right to have some concerns, but there is no need to be scared, because you can beat the odds. Being an entrepreneur isn't as risky as most people think, and here are five reasons why.
1. The Timing's NEVER Been Better
This may be the best time in history to start a new business. The Internet and web-based software has made it so that a founder has everything he or she needs at his fingertips. You can set up a website with a few clicks after buying a domain and signing up for a hosting service.
Not sure how you want your site to look? You can buy a prepackaged theme.
Want to set up an email list to keep in touch with your customers? Try Aweber or MailChimp.
Need help with technology? Check out Odesk.
Not only are there abundant tools, but also a wealth of free information to help you in every aspect of your new business. Blogs can give you a ton of great tips, and if you want to learn more, you can take an inexpensive online course.
The Internet also gives you the power to attract customers to your new business in easy and inexpensive ways that were not possible just a few years ago. Using social networks like Facebook, Pinterest or Twitter can spread the word for free about your products and ideas.
You can also buy ads on these social networks or on Google to reach billions of prospective customers around the world. The Internet and its myriad available tools are amazing enablers for you as a founder.
2. Outsourcing Is Easy
No entrepreneur has all the skills needed for success. You're going to need some help, for example, with website design, advertising, accounting or customer service. Hiring full-time employees can be risky.
But you don't need full-time people — you just need help. It's quite easy to find expert contractors for your new business through various Internet sites. Most offer reviews so you can find the best people for your needs.
3. Test Your Idea Until You Find a Winner
One common reason new businesses fail is that the founder thinks he knows the market needs. He launches a product, only to find out he was wrong.
The best way to reduce that risk is to test your assumptions. First, write those assumptions out:
Who are your customers going to be?
What are their problems that your business can solve?
Why is your solution different?
How are you going to reach them?
How much will they pay you to solve the problem?
Then, before you launch a product or service, get feedback on these assumptions from actual customers. Do some interviews or surveys to get their perspective. You can also easily set up a landing page to see how people respond. Adjust your idea from this feedback.
Even if that feedback isn't ideal, you can change the idea somewhat, which is called "pivoting" in the startup vernacular. Lots of great companies are a pivot from the original idea, including Twitter and Groupon.
4. Great Mentors Are All Around
Sometimes a new business will fail because the founder loses momentum and quits. Being an entrepreneur can be a lonely thing — the ups and downs of running a small business are tough. This is especially true as a solo or lifestyle entrepreneur.
Get yourself a few mentors who understand what you're dealing with and who can keep you on track. In your professional network or on LinkedIn, you can find successful people who have started their own business.
Maybe attend a meetup or networking event. There are many people out there who will give advice and assistance to keep you moving toward your ultimate success
5. Safety in Corporate Life Is Exaggerated
Part of the reason you may view starting a business as risky is because you perceive a corporate job to be "safe."
Anyone who lived through the Great Recession or the Tech Bubble bursting in 2001 knows that jobs in corporate America are plenty risky. Companies these days are quick to lay off and slow to hire.
The best way to protect yourself is by starting your own business and taking control. It allows you to begin building an income stream and control your own destiny. There is nothing risky about that. And you don't have to quit your job — you can start a new business as a side project.
Release Your Fears
Your fear of the risks of starting a new business might be holding you back from living the life you want and having your greatest impact on the world. Hopefully, this article has shown you those risks are largely misconceptions.
Up until now, you have been listening to that inner part of you saying, "It's too risky" or "I might fail."
Instead, what if you listened to Nelson Mandela?
May your choices reflect your hopes, not your fear."
What would happen if you lived your life this way?
Your dreams of starting a company and taking control are all right there in front of you, waiting for you to act. It is time.
(Photo by StartupStockPhotos / CC BY)