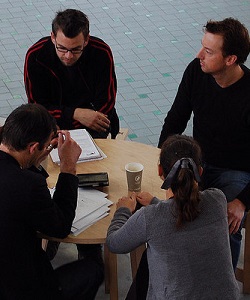 Collaborating? Freelance?
Other freelancers? What?
Freelancers are solelancers.
We are lone wolves, howling under silent moons.
However, collaboration among freelancers does happen more frequently than you might think.
Here are some of the benefits of collaborating, as well as a look at how one can go about it.
Expanding Your Reach
Sometimes it seems like leads dry up, and there's nothing more frustrating than reading a job listing that asks more than you can deliver.
Sometimes an ad for a web video requires great expertise in the difficult concepts of marketing. Or, perhaps you're a writer who doesn't quite know how to produce a video.
You may be a designer who's seeing ads for web work that includes more text than you're comfortable delivering.
The way to handle this is to develop a partnership, with each of you working within your specialty, agreeing with your collaborator on how to split the earnings.
Being Networked
There are pros and cons to the general freelancing life. One of the cons is probably a feeling of powerlessness.
You may end up feeling like a feather riding the crest of an ocean wave. We're all trying to advance ourselves, and it's us against the world. There's just so many people out there — so many obstacles.
One of the purest, most intuitive ways to become part of a larger group is to work with others, perhaps some like-minded freelancers.
Once you become friends with a few others out there like you, your world opens up and you learn so much more about the freelancing universe. You'll learn resources, tutorials, job boards, blogs — all things that can guide you on your way.
In fact, it's not the slightest bit uncommon to get personal recommendations for jobs — you and your freelancing mafia can send jobs to one another.
Get Started
There are a number of ways to getting started on collaborations. You could post a message on a discussion forum centered around freelancers saying you're interested in collaborating.
However, there are ways that are probably better for finding trustworthy, high-quality folks with whom to work. One thing to remember is that your Twitter contacts probably already include a fine variety of freelancers in every field.
Since you've been seeing their tweets and possibly interacted with them, you've gotten a sense of what kind of compatibility you may have. You may have seen a gallery of their work.
If you don't go the route of social networking, you might look around the web for solid freelancers. This can include going to the freelance network — if you're on one — and looking at some of the top freelancers.
You should be able to get a look at some of their work, or at least get some sense of what they've done. This will give you a chance to make contact with only the best.
In a similar vein, you can do a Google search to find freelancers in the area in question. This will get you to websites and galleries of work.
A Few Cautions
The one thing to remember about collaborating is that it will be only part of your freelancing output. It does take a bit of leg work, and sometimes it's fun to just go on your own.
But you'll be fine using it to accentuate your freelance life as long as you're a bit cautious. Just be sure to be very clear on how you're splitting the pay.
You probably shouldn't try to drive too hard a bargain with your collaborator, but then again, if you're a complete doormat, you'll be compromising the cost-effective nature of the enterprise.
You also have to be sure that you've taken care of the logistics: Are you signed up for a Paypal-type service and is the other person? Failing to shore up important details can lead to hard feelings later.
Also, be sure the other person can handle the workload and will be detail-oriented. Attending to these things will be part of your screening process, but problems can still arise.
Since there's no imperative to have a few collaborations with different people going on at once, it's probably best to have a low tolerance for slacking on the part of a teammate and cut him or her loose before long.
If you follow these tips and guidelines, you can expand your freelancing life in a fun way!
(Photo by Simon Blackley / CC BY)