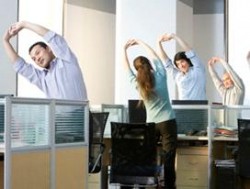 This post is for those who are chained to a desk from nine to five, constantly snacking to fend off the boredom.  By changing our daily routines, even just slightly, you can improve your overall health — both mentally and physically.
Here's how to keep fit while working at a full-time job:
1. Get a Lunch Buzz
You'd think that you'd hate your desk after working for hours straight. But the surprising thing is that employees tend to eat their lunch there, too!
Instead, go outside and have a walk and eat your lunch whilst breathing in some fresh air.
As well as stretching your legs you'll also clear your mind which will help you be more efficient. For those of you that work near beautiful parks or scenic paths, why not pack your running shoes and take a 25 minute run? Because of the high intensity even a quick 10 minute run will do amazing things for your physical and mental health.
2. You Ate What?!
Snacks can be extremely tempting sitting at a desk all day, which is understandable. But skip the oily chips and have a piece of fruit, instead.
You may be making faces at this point, but trust me, fruits will have you fuller for longer and are slow digesting. This means that an apple or banana will release energy over a longer period of time and help you get through those last few hours.
3. Your gym is wherever you want it to be
You can do a lot of exercise in 10 minutes. Have a look at some of these exercises and challenge yourself and your colleagues to see who can do the most in a set period of time:
Dips off office chair or table
Squats against the wall
Lunges around your desk
Calve raises holding the door
Leaning pushups against the wall
Wide grip pushups against the door frame
Do not dismiss an exercise idea just because it will look ridiculous — chances are you'll have your co-workers up and about in a few days, too!
4. Office-Come-Gym-Equipment?
You can replace your office chair with an exercise ball — this will strengthen your core stability muscles and improve your posture. While everyone else develops back problems, you'll have your chest puffed out walking around like Dwayne The Rock Johnson.
Men may consider buying a door-mounted pull up bar. These are a good investment and prove to be cheap in the long-run. They will fit on almost any door frame and are very versatile. 1L water bottles (when they're full) also work well as dumb-bells and are good for keeping your arms firm and toned.
Ultimately, the key to keeping your office/fitness life balance is all about doing little bits of exercise on a regular basis. You'll find you will feel and work better. And who doesn't want that?
Got more tips? Share yours below on how to keep fit while you work on a 9–5 job.
Photo by FreeDigitalPhotos.
Popular search terms for this article:
how to keep fit, Powered by Article Dashboard american general finance payments, Powered by Article Dashboard offtopic co, Powered by Article Dashboard american general assurance company, Powered by Article Dashboard keeping, Powered by Article Dashboard locate someone