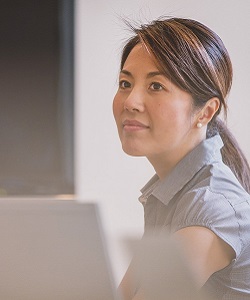 Failing to engage your employees is an unforgivable mistake.
Employees who are not engaged in the company can feel less important, and employees who feel less important don't care as much about their jobs.
Creating the spirit of engagement in the work environment will strengthen many spokes in the company, from higher productivity to greater customer satisfaction.
Putting forth the effort will pay off exponentially, and it doesn't have to be difficult to get the results you're looking for.
1. Make Sure You're on the Same Page
How clearly do you communicate the company's core values, and would your employees know them as well as you do? You need to be able to confidently answer a resounding "yes" to that question.
If your employees aren't certain of the vision they're standing behind, they don't know what they're working for. Educate your employees about the company's vision to inspire passion and motivate them.
It's hard to do an excellent job when you're not sure what you're doing in the first place, so it is imperative to provide them with the information they need in order to be excellent.
2. Chat on the Job
Not enough emphasis can be placed on the powers of effective communication. The individuals working for you are spending a significant amount of time at the workplace, and their jobs are a major part of their daily life.
They've invested time for you, and you need to do the same for them. Tell them how the company is doing and afford them with the opportunity to see how their collective hard work is paying off.
Answer their questions, take their suggestions, and keep them informed about the happenings on the corporate end.
3. Give Them a Reason to Believe
How easy to approach and how credible any manager or supervisor appears to their employees will shape the employee's perception of the company.
If your employees feel that the person above them on the chain is not a man or woman of their word or they are difficult to reason with, they're going to go home at the end of the day with a bad taste in their mouths.
Make sure all supervisors are modeling behavior that will make your employees glad to be a part of your company and develop trust in the workplace.
4. Encourage Innovation
If your employees feel bound by strict paths that have been laid out for them, they'll begin to feel like drones. Show that you appreciate their unique ideas and approaches.
Make note of their successes that occurred as a result of marching off the beaten path. This will let them know that they're being heard.
Your employees have a different skill set than you do, and they know the nuances of their jobs better than anyone else. They're more likely to take a vested interest in a company that values their unique contributions.
5. Show Them Their Worth
Why should your employee work for you if they can find someone else who will treat them better? Quite frankly, any wise person would accept an offer to do the same work for better pay and better benefits.
Staying competitive shows that you're willing to do everything you can to retain your valuable employees, and it will keep your employees loyal to your company.
They'll be more willing to familiarize themselves with your corporate culture if they know they're receiving their worth, because this will encourage them to stick around for longer.
—
Engaged employees are worth their weight in gold. The effectiveness and productivity of your entire company hinges on them. Put in the effort and you'll see the results.