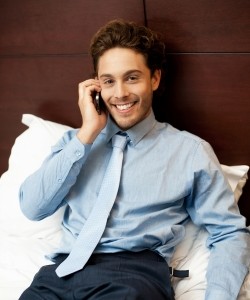 Most entrepreneurs have heard the phrase, "Work Smarter, Not Harder," but many of the small business owners do not embrace this philosophy, or understand how to properly implement this strategy.
Instead, they spend their days putting in longer hours and finally burning themselves out, because it takes a lot of work to get a company off the ground and sustain that company.
Business, today, is a highly competitive, technology driven and fast-paced environment. It would be challenging to operate a business the way companies were operated in the 80s, but several entrepreneurs are still holding on to those old ways.
The new approaches and technological advancements would liberate you from the sweat equity and daily toil that is exerted by most entrepreneurs today.
However, there are ways to implement the "Work Smarter" philosophy. There are many hard-working business people who are not rich today and continue to struggle in this economy. By re-evaluating the way you operate your company, you can sustain growth and work smarter, not harder.
1. Organize and Plan.
Before starting a company, as well as annually, you must have set goals and outline how you are going to reach those goals. These goals can be adjusted each quarter if you determine that you need to raise the bar or back off a little to ensure growth is achieved at a pace you can manage.
2. Re-Evaluate How You Are Doing Business.
If you are spending 20 hours a day working on your business, you will burn out and your company will suffer. You must re-evaluate how you are doing business to prevent this from happening.
The economy today is suffering and small business owners are doing everything they can to struggle through this crisis. However, to work smarter, not harder you have to do business a different way. One way is to use your local government resources, such as mentoring programs or workshops that assist business owners.
Asking for help when you need it is not being embraced enough by businesses when challenging times arise. By using these resources, you can discover new ways to expedite any of your procedures.
3. Embrace Technology.
Starting and maintaining a business requires a lot of documentation, as well as tracking sales, inventory, revenue and expenditures. By implementing technology to accomplish these processes, you can save time and money, which allows you to concentrate on other priorities.
4. Form Alliances.
One of the fastest ways to reach your company goals and achieve success in a short span of time is to form alliances with organizations and other businesses.
According to the U.S. Small Business Administration (SBA), you need to take several steps before starting a business. You can also partner with the SBA and receive business training, as well as counseling, during you initial start-up and as you are growing your company.
Even your local SBA has mentors and advisory boards that you can use to help learn to work smarter, not harder. You can also partner with an established business that can guide you when you have questions.
When you form alliances, it becomes a win-win situation for everyone involved. You have a place to turn when you have questions or concerns and the organizations or partners benefit from doing business with your company.
5. Raise the Bar.
During the initial start-up of your company, you may need to think conservatively, but don't continue to be conservative. Raising the bar can help you surpass your goals. By working with your business alliances, you can brainstorm and engage them to discover additional ways to operate and grow.
If you do this, you can take your company to the next level, because you are already working with proven methods. This could include streamlining your processes, implementing new systems and diversifying your products or services.
6. Delegate Responsibilities and Duties.
Never try to take on every business responsibility or duty. There are things that professionals or others can achieve better than yourself. You need to concentrate on managing the business, not do all the work, such as bookkeeping, accounting, human resources, purchasing and all the departments that require people who are experienced in each area.
Once you achieve some sales and success, then you need to start looking for others to add to your company in order for you to concentrate on growth.
7. Balance Business and Personal Life.
Never ignore your personal life in order to concentrate on building your company. Of course, growing your company is a priority, but if you are not physically, emotionally and spiritually balanced, than your company will suffer, as well as your personal life.
While businesses may fail, family will always remain. If you abuse or ignore your personal responsibilities, you can lose both company and family. Schedule your work time and personal life with balance.
Look for ways to work smarter, not harder. This includes many of the suggestions mentioned earlier, but also new and improved ways of doing business. Search new and improved ways, because they will only speed up the growth process and keep you from working too hard.
Photo by FreeDigitalPhotos.net.
Popular search terms for this article:
Powered by Article Dashboard entrepreneurs, work smarter not harder, Powered by Article Dashboard start up business plans, Powered by Article Dashboard we television, Powered by Article Dashboard body art forms