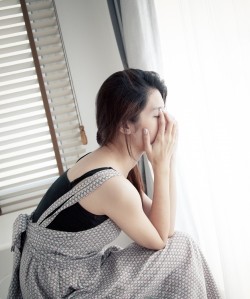 The holidays are fast approaching and you know what that means: Stress! From carving a turkey to spending hours trapped in the mall picking out the perfect gift, this time of year can be a real headache. Seeing the stresses of the holiday season looming before them, many people just abandon the job search entirely during the fall and winter months.
While the holidays can be a stressful time of year, this stress doesn't have to leech into your job search. With packed schedules of vacation time and travel, it's likely your job hunt might be incorporating a video interview instead of a traditional face-to-face sit down. According to a recent survey by Office Team, six in ten companies are now using video interviews as part of their hiring process.
If you're invited to a video interview between stuffing the turkey and hanging twinkle lights, you might think this is just one more stressful task to add to your holiday list. But the video interview doesn't need to be as stressful as picking out the right present for grandma.
Here are some tips on how to cut out the stress in your video interview and get down to wowing employers with your skills. Who knows, if you follow this advice you could land your dream job by New Year's!
Check Your Technology
A big concern many job seekers have about video interviewing is the technological side of the equation. Video interviews, however, are fairly easy to set up. If you have a webcam installed on your computer or laptop, just check it prior to the interview and make sure it's working. If you lack a webcam, see if you can borrow one from a friend, buy an inexpensive one from the store, or rent out a study room computer equipped with a webcam from the local library.
You'll also want to check your network connection and make sure there are no issues with your Internet. If your connection is fine and your webcam shows your smiling face, then you've mastered the technology. Nothing to stress over.
Set the Scene
Unlike a traditional in-person interview, it's up to you to set the stage of your video interview. This means you can use the opportunity to have your background display relevant industry awards and other professional achievements. Let your background do some work to take the pressure off you.
Whatever you do, however, don't pick a messy spot as the background of your video interview. You might not think it matters, but if you're explaining your attention to detail and organization in front of a giant pile of laundry, your background is undercutting your message. Make sure you set a professional stage and it'll be your words making the impression, not the chaos behind you. A little cleaning can save you a lot of stress in the interview.
Dress for Success
Many job seekers stress about what they look like in their interview. Dressing for the job interview might seem stressful, but it can be easy…as long as you keep it simple.
Instead of trying to imagine what the dress code is like in the office, just go for something professional and conservative. Even if the job you're applying for is in a jeans-and-T-shirt kind of workplace, they probably don't want to see this attire before you've even stepped foot in the office.
A dark colored suit or dress with minimal accessories might not be setting fashion trends, but it also won't detract from your message. If you keep it professional, you won't have to stress about the way you dress.
Practice Makes Perfect
You know what they say: practice makes perfect. Doing your homework before the interview is the best way to cut down on nerves and de-stress before turning on your webcam. Look at the company webpage, get to know the movers and shakers in the corporation, and read up on the latest news.
When your interview begins, you can really use all the information you've compiled in your head to ask relevant, interesting, and intelligent questions. Good questions show a company you're thinking about your future with the organization.
Make sure to ask about the company culture and what life is really like on a day-to-day basis. It's entirely possible the company wouldn't be a good fit for your personality, and the interview is your chance to do a little digging. Remember the interview isn't a one-way street, you're also interviewing the company to see if this is a place you want to spend your daily 9-to-5.
To avoid the stress of getting caught off-guard by a trick question, have a friend or family member quiz you in a mock interview. If you're ready for all the most common interview questions, you'll be refreshed and ready for even the most esoteric questions thrown your way. There's nothing like proper preparation to avoid interview day jitters.
The holidays can be stressful, but your video interview doesn't have to be. Making sure your tech is working, your dress is professional, and your background is clean leaves your brain space to focus on what's important. If you take care of the little things, you'll be removing the tiny stresses which can trip you up in an interview. This means you can put stress aside to really wow employers this holiday season.
What are some ways you can cut down and stress less in a video interview? Share in the comments! 
Photo by FreeDigitalPhotos.net.
Popular search terms for this article:
Powered by Article Dashboard team networking, Powered by Article Dashboard general tools, Powered by Article Dashboard contests, Powered by Article Dashboard general statement, Powered by Article Dashboard general definition, Powered by Article Dashboard importance of competition, Powered by Article Dashboard your name, Powered by Article Dashboard gaining contest, Powered by Article Dashboard find a job, Powered by Article Dashboard find psychologist