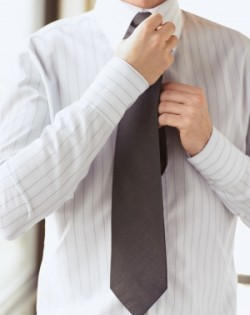 Though your first day at a new job will be mostly training and orientation, you'll also be working to impress your new boss and coworkers. You only get one chance to make a first best impression, so starting off on the right foot should be one of your top priorities when starting a new job.
Here are a few ways to make sure you make a positive impression on your new coworkers.
Arrive Early, Stay Late
Arriving early on the first day of work is the first step to making a good impression. If you show up late to work on the first day, you would likely leave a bad impression with your new employer. Leave at least 20 minutes earlier than you think you need to because arriving early gives your new boss the impression that you're ready for work.
Dress Professionally
Your professional wardrobe can say a lot about you. Although many companies have ditched the dress code, business casual is still the order of the day.
If you have a favorite funny tie or a big pair of earrings, try holding off on looking flashy, especially on your first day. You don't want to appear under-dressed or sloppy, so make sure you wear professional attire to your new job (such as slacks and a jacket) to make the best impression possible.
Learn Your Company Culture
Fitting into your company's culture can be one of the most important aspects of a fulfilling job. Culture goes well beyond the dress code and time-off schedule. At my first job, we routinely held after-hours events.
Although I was not required to attend these events, I never missed one because I learned so much about my company's culture. These events were vital for building relationships with coworkers, clients and customers. Take every opportunity you can to grow into and learn your company's culture.
Take Control of Your Work
A lot of your time will probably be spent getting up to speed on new projects and systems, but try to tackle your first assignments with efficiency. Offer to pick up some old projects that your team hasn't gotten around to like creating a new database or organizing old reports.
The first day of work is often difficult because you have to learn the company's systems and processes, but showing that you can accomplish tasks as a team player will go a long way towards earning the trust of your coworkers and bosses.
Mind Your Manners
While impressing your boss is important, making a positive impression on your coworkers can mean the difference between a fun work environment and a bad one. Thank your trainers, say hello to the receptionist and, maybe, bring a box of donuts for the office. Be courteous, avoid office gossip and put your best foot forward.
Listen and Learn
When you're meeting a lot of new people, you'll naturally want to talk about yourself and your past work experiences. I've found that it's best to tone down tales of your old job and focus on learning the ins and outs of your new job.
Take plenty of notes and ask questions, but don't feel like you need to start making changes to the company on your first day. Try to learn the big picture and how you can help add to it, rather than how you can immediately start changing it. As tempting as it can be to share your innovative ideas, you should build your own place in the company first.
Take Time to Fit In
No matter how charming and funny you might be, take some time to start developing relationships in the office. Be pleasant and polite, and let your work speak for you.
I've always been a quiet worker in new situations before slowly cracking jokes and letting my personality come through. There's no magic date on which you should surprise your coworkers with your true self, but try to build a reputation as a hard worker before you build one as a jokester.
How do you make the best impression at a new job?
Photo by FreeDigitalPhotos.net.
Popular search terms for this article:
Powered by Article Dashboard job performance, Powered by Article Dashboard employee performance objectives, Powered by Article Dashboard jobs in business, Powered by Article Dashboard performance appraisal comments, Powered by Article Dashboard today show live, Powered by Article Dashboard the beginning, Powered by Article Dashboard free performance review, Powered by Article Dashboard employee performance issues, Powered by Article Dashboard employee training program, Powered by Article Dashboard response to written performance appraisal