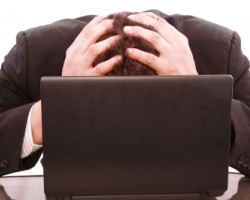 Have you ever had to manage conflict at a job? When I was eighteen and fresh out of high school, I was offered my first job in which interacting with coworkers was a requirement.
I didn't have much of anything to compare the experience to, but I sensed early on that there was some serious conflict brewing between the ladies I worked with. There was constant talking behind each other's backs and harsh criticism was commonplace. Those who weren't passive aggressive were just downright nasty.
But being the youngest in the bunch, I didn't think it was my place to speak up and I feared that certain individuals would turn on me if I simply excused myself from the conflict.
The group dynamic became increasingly uncomfortable, and eventually I left the job in the hopes that a more peaceful work environment existed elsewhere.
Now a few years in to my working life, I am far better equipped to express my thoughts and opinions. But even more importantly, I know how to avoid workplace conflict from the outset so these uncomfortable situations don't sprout into something more serious.
Here are a few tips to help you stop the office drama before it begins.
Tip #1 – Set your intention early on
When starting a new job it can be easy to get swept up in the office politics simply because it's a way to feel connected to your new coworkers. But these interactions might be the very reason why your job becomes unbearable later on, so it's best to avoid them from day one.
Set your intention to steer any negative exchanges onto a more positive path and limit your coworker relationships to those who are also interested in creating a harmonious work environment.
Like attracts like, so be the person you would want to interact with.
Tip #2 – Don't entertain certain conversations
People like a sympathetic listener, especially when it comes to sharing grievances about someone else.
Let it be known early on that you aren't someone who will revel in negativity and trash talking simply for the sake of letting someone else feel better. Not only is that detrimental to your wellbeing, but it allows the other person to continue festering in what's bothering them.
There's no need to be rude, just become an expert at changing the subject or making jokes (when appropriate). Once they realize you won't be giving them what they're searching for, they will find someone else to fill the sympathizer role. That's a guarantee.
Tip #3 – Make your own judgements
Once a group reaches a consensus about someone, it is often passed through the ranks, eventually trickling down to those who weren't even around when the first judgements were made.
Instead of going along with the things people tell you about someone and interacting with them a certain way as a result, try to come to your own conclusions. If you remain open, you may be able to see a side of that person that others weren't able to.
Tip #4 – Help facilitate positive interactions
Avoiding office conflict doesn't have to mean excluding yourself from social interaction. If your coworkers seem to be constantly battling each other, think of a way to turn the tide.
Everyone wants to feel like they are seen, heard and appreciated. Ask your coworkers about things outside of work that you know they enjoy. Let them know you are paying attention to who they are and what's important to them.
Once you do that, that person is more likely to pay it forward to the next person they come across. It's a small seed, but it can grow into something much more substantial.
Tip #5 – Cut out the complaining
While you may not be physically participating in the conflict, you might be adding to your negative perception of it if you spend a great deal of time talking about it on your time off.
When I would share my frustration and anger over the situation I was witnessing with my coworkers, I noticed that I became more and more upset. Talking about it over and over again increased the emotional charge that the conflict carried for me, which in turn, helped in attracting more of it into my experience.
Your time outside of work is precious — don't spend it talking about the conflict you don't wish to be apart of.
Tip #6 – Meet all disagreements head on
The few times when I've worked in an environment where the majority of my coworkers handled conflict in a very passive aggressive fashion, I tended to follow suit. It's what a lot of us do — we go with the flow.
When disagreements arise, try to find the source and attack the problem head on. Don't spend time sharing what is irking you with others, that is what can get you into trouble. Find the source of your upset and calmly address the problem.
Even our friends that mean well can magnify conflict by validating the feeling we have that we were wronged. Once we receive that validation, it can be hard to believe that the other person may not have had any ill intent.
What steps have you taken to avoid inner office conflict?
Photo by David Castillo Dominici.
Popular search terms for this article:
how to avoid office drama, office conflict, how can the post office avoid this conflict situation in future, avoiding office drama, office conflicts, how can the post office avoid this conflict situation in future?, ways to avoid conflict, how can the post office avoid conflict situation in future, how could the post office avoid this conflict situation