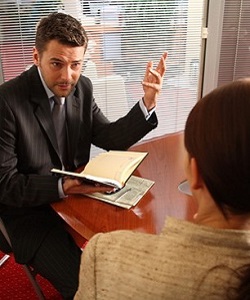 I have worked at a number of different companies, both large and small. Today I run my own business.
The company I founded came into existence based on frustrations I experienced working in a corporate environment.
Between bureaucracy and my own lack of relevant training, I became disappointed and disenchanted with the employee review process.
Whether you're new to the working world, or someone who's been around the block a time or two, I bet we have something in common.
We're not sure how to appropriately prepare for employee reviews, and further, we're not certain we have the Jedi mind skills to chart the course of our professional destiny.
None of this is taught to us in school. Chances are we'll walk into our first, second and even fifth job still bewildered by what is expected of us come review time.
In order to prepare for a job review or plan career goals, you have to practice.
Avoid Averted Vision
Ever peer into a clear night sky and see a faint star that you just can't seem to focus on? When you don't look directly at it, the star becomes brighter.
But when you try to focus your eyes on it again it becomes nearly impossible to see. Astronomers refer to this technique as averted vision — useful for seeing faint objects that you cannot see directly.
Unfortunately, this technique is less useful when applied to your performance reviews. You want to be in your boss' sights. There are a few things you can do to make sure this happens.
Keep a Journal 
By keeping a journal of your ongoing achievements and setting goals for the next three months (that you follow up on), you'll be well on your way.
As far as goals go, keep it simple. Stick to the SMART system of goal setting. Specific, Measurable, Attainable, Realistic and Timely, those are your five key concepts. Once you begin making a list of your goals, you can benchmark them against these concepts.
It may seem awkward at first, but by using the right template, you can skip the time and effort involved in creating your own framework from scratch.
Your career journal will help you avoid forgetting the wins you've had throughout the year. Even just a few entries a month will help you create a clear and credible self-summary to get the most out of your performance reviews.
The little details we often forget — a customer "thank you" email or some kudos from the big boss — help enrich your story in ways a last-minute look-back never can.
Accountability Partners Are Awesome
Get an accountability partner! Your accountability partner will be there to celebrate with you when you succeed, or get you back on track when you don't. Shared celebration is important since achieving personal goals can sometimes be a lonely party.
It can be tricky to find a good accountability partner, so here are a few tips:
DON'T choose your spouse. You're implicitly accountable to them already. DO tell them who your accountability partner is.
DON'T have a reciprocating accountability partnership. If you are accountable to them, and they are accountable to you, there is a good chance that when things are down you will get the wrong kind of feedback, namely merciful permission for why you are off-track instead of the stern jolt you need to get back on track.
DO choose someone that will take it seriously.
DO choose a partner that you can meet with on a regular basis. At minimum once a month, but once a week would be better.
DO choose someone that can bring some experience to what you are trying to achieve.
Once you've picked an accountability partner, set goals and metrics of what you are trying to achieve and share it with them. Schedule a recurring meeting to make sure that conflicts don't get in the way on a consistent basis.
For every meeting, plan a milestone you plan to reach by the next meeting. These meetings should be about what you've achieved, not what you are working on. This forces you into the mindset of finishing tasks rather than just starting them. Bring your career journal to keep you focused.
Get Prepared
Most performance reviews occur either semi-annually or annually, and we often wait until one is imminent before thinking about everything we've accomplished throughout the review period.
Unless you've been keeping a detailed log of what's happened, it's a struggle to remember all the incredible things you've accomplished throughout the year.
Recent events are more prominent in our memories, but those that occurred earlier in the year are much fuzzier — that's where your career journal and your work with your accountability partner comes in.
If you want to make bold claims about how outstanding you are, cite specific examples. Saying Built a weekly project dashboard for the team highlighting critical tasks is far better than saying improved communication skills. Use your performance reviews as the stage to showcase your valuable and consistent contributions to the organization.
Practice talking about your accomplishments with your accountability partner. Create a list of goals you'd set for yourself over the year with the results. Have plans and goals for the coming year, both for yourself and your department. This is your chance to ask for help, resources and possible promotions as well.
See The Results
By keeping a journal, making a tactical plan, and coordinating with someone to be an accountability partner, you will set the stage for growth in your professional life. Remember, you want to be the star that your boss can see — not the one he can only see with averted vision!
(Photo by thinkpanama / CC BY)